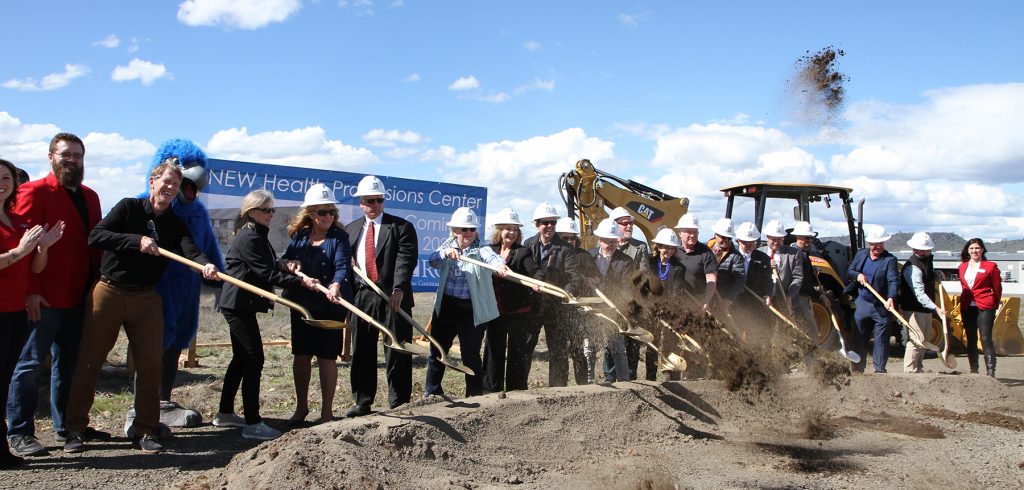 WHITE CITY – Rogue Community College broke ground today on construction of a Health Professions Center at the Table Rock Campus. This state-of-the-art educational center, budgeted at $21.25 million, will bring together RCC's clinical health care programs at one campus and streamline the pathway for local students to get into high-paying career jobs and fill a great need for health care workers in the Rogue Valley.
"RCC is excited to break ground on a state-of-the-art regional health professions training center," said RCC President Cathy Kemper-Pelle. "It will expand our ability to meet the high demand for qualified health care workers right here in Southern Oregon, connecting local residents to great careers."
Set to open for classes in the fall of 2020, the RCC Health Professions Center will be a 35,648-square-foot teaching facility featuring the newest in health care training technology. The center will house all of the college's clinical health care programs including the associate degree nursing (ADN) program, the signature health care degree at RCC, which boasts a 100-percent placement rate for graduates. For the first time in 30 years, the RCC nursing program will have new classrooms, a basic skills lab and a high-fidelity simulation lab.
Other programs that will move into the new center are basic health care certification; dental assisting; dental hygiene; medical administrative assisting; medical assisting; medical coding specialist; pharmacy technician; phlebotomy; practical nursing (LPN); and sterile processing technician.
"Rogue Community College continues to be grateful for the opportunity to provide our community members with academic programs that meet their educational needs while also meeting the employment needs of our industry partners," said Teri Smith, dean of health and public service. "The Health Professions Center will be fully equipped with the latest technology and equipment allowing our students to be fully prepared to enter our local workforce. We are proud to have so many partners in bringing the vision of a regional health care training center to Southern Oregon, allowing us to expand opportunities for students that lead directly into living wage employment."
Architects for the project are Hennebery Eddy Architects and Kistler+Small+White. General contractor is Adroit Construction.
Funding includes $11.7 million from bonds approved by voters in Jackson and Josephine counties in 2016; $8 million from a matching grant from the State of Oregon (IGRA0788); $658,413 in donations to the RCC Foundation; and $775,846 from additional sources.
"Besides helping to raise private donations, the RCC Foundation Board was very involved in promoting and helping get the bond passed, which made this health professions training center possible," said Judy Basker, executive director of the RCC Foundation. "We are grateful for their work."
RCC thanks the following partners for financial support of the Health Professions Center:
– AllCare.
– Asante.
– Community College Workforce Development-Oregon Department of Administrative Service.
– Jackson County.
– Providence Health.
– Sid & Karen DeBoer.
– Jed & Cellia Meese.
– Nisha Jackson.
– Patsy Smullin.
– PrimeCare.
– Pat & Shirley Huyke.
– Rogue Heroes.
– Siskiyou Community Health.