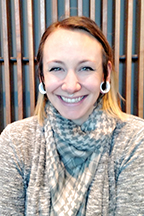 Kira Burkett is a motivated young woman. The wife of a bike mechanic and mom to two daughters, ages 5 and 2, Kira juggles a busy family life with full-time school at RCC. She admits the balance isn't always easy, but it's definitely worth it.
"The most important goal for me is to be a role model to my daughters," Kira said. "Attending school and working toward a career I'm passionate about shows my children they can overcome challenges and find fulfillment both in their families and their vocational calling. I want them to know they can accomplish their goals, too."
Kira was recently awarded the Medford American Association of University Women (AAUW) Scholarship. Next semester, her family plans to move to Eugene where Kira will continue her education at the University of Oregon, majoring in ecology. Her dream is to work as a science teacher and writer.
"I'm passionate about the Earth and our valuable resources," Kira said. "I want to engage people in hands-on activities that help them appreciate and protect what our planet has to offer."
A native of Medford, Kira was raised by her dad, a Vietnam veteran and truck driver, and her mom, a night shift baker. Kira's mom passed away a few years ago, which further inspired her to pursue a job she loves and make the most of life while she can.
"I'm thankful that RCC has given me a solid foundation and showed me that I can achieve great things," Kira said.
She is particularly grateful to Colletta Young and Layne Morell from the TRiO-SSS program, who guided her throughout her career at RCC, and to her favorite instructors Chip Phillips and Charles Rogers.
"The scholarship from the RCC Foundation, provided by the AAUW, made a huge difference to me. Thank you for the wonderful opportunity."