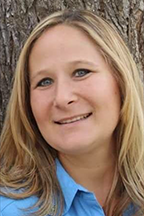 Shannon Dabel knows how to take care of people. As the wife of an Army veteran, she spent several years as a stay-at-home mom, raising four children in various communities both stateside and abroad. When her husband David retired, he attended RCC and earned a degree in human resources while Shannon continued caring for their growing family—which now includes three "adopted" developmentally disabled women who share a permanent place in the Dabels' home and hearts.
Recently, David took over as primary caregiver. And this is Shannon's time to shine.
"I'm really grateful for the years I had home with my kids and pouring into my family's needs," she said. "Now thanks to RCC, I'm able to obtain a degree that can help me spread my skills and experience to even more people."
Shannon is currently in her second year at RCC, where she was recently awarded the Ashland American Association of University Women (AAUW) Scholarship. She plans to transfer to Southern Oregon University to complete her degree in teaching. One day Shannon dreams of working in China, where her daughter is currently employed with an international language school.
"The skills I've learned at RCC have prepared me very well for what's to come," Shannon said. "I've been blessed to work with amazing instructors like David Sours for speech class and Ryan Mapel for Spanish, among others."
The feeling is mutual, as the Dabel name is well respected around campus. All of Shannon's family members have attended RCC either as college students or as participants in the high school charter program.
"My family is a huge advocate for RCC and all it does for us and our community," she said. "I'm so very grateful for the education and opportunities we've received here."