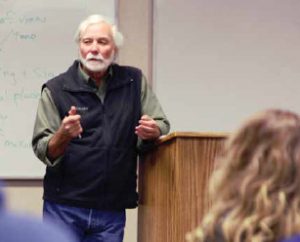 "At one point, I was teaching ethics, volleyball and remedial spelling," Lutz Kramer recalls with a laugh. The humanities instructor has been part of the RCC community since 1974. He estimates that as many as 10,000 students have passed through his classes over the past 43 years, mostly in subjects like philosophy, ethics and intercultural communication.
"I originally assumed I would spend a few years here and then go on to a university someplace," says Kramer, 73.
He discovered Southern Oregon as a halfway point between his two alma maters, the University of California, Berkeley, and the University of Washington in Seattle, where he earned degrees in political science and philosophy.
Kramer had a short-lived stint as a back-to-the-land farmer in the rural community of Azalea before making his home in Grants Pass. He first joined the college staff as a writing aid, then landed a full-time faculty position. He officially retired in 2006 but continues to teach a class or two each term.
"There's such a difference in this community because of the college," says Kramer, recalling when RCC was established in 1970. "Suddenly, there were opportunities that weren't here before. People didn't have to leave to advance their education."
As an advocate for higher learning, Kramer has been a longtime donor to the RCC Foundation, a nonprofit organization founded in 1980 to support the needs of the college and its students. In the 2016–17 academic year, the Foundation awarded nearly $450,000 in scholarships to more than 240 students and provided another $30,000 in special program and project funds.
"What they do with scholarships and funding for special projects is really an important part of the school," Kramer says. "My wife, Lisa, and I support education in a variety of places. The college is home."
Kramer and other RCC employees who contribute to the Foundation are known as "Rogue Heroes." Since the Rogue Hero Campaign was established in 2011, RCC employees have donated more than $175,000 in support of the college.
Thinking back, Kramer can pinpoint the moment he realized he would stay at RCC. It was the early 1970s, and the philosopher was leading an ethics class discussion of war and peace. The classroom included veterans from World War II and the Vietnam War, as well as students who brought to the table a variety of other life experiences.
"The discussion was much more interesting than if I were teaching a bunch of 18-year-olds."

Some four decades later, Kramer finds he's still learning at RCC: "Maybe someday I'll get a class exactly right. Maybe that's when I'll quit."