Ribbon-cutting slated for August 30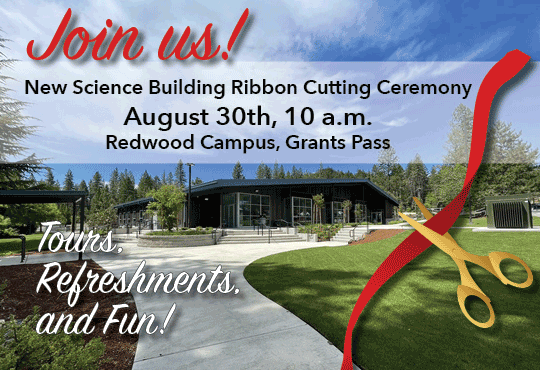 With 17,200 square feet of sunlit teaching space, the new Science Education Center at Rogue Community College's Redwood Campus will be an exciting addition for students seeking science-based higher education in Grants Pass.
Dignitaries and community members are invited to attend the free, official ribbon-cutting ceremony on August 30 at 10 a.m., and will hear from RCC President Randy Weber as a keynote speaker. A guided building tour will follow the ceremony as well as refreshments. RCC invites visitors of all ages to join in the celebration.
"We are excited to welcome the community to tour the new Science Center Education building, visit the other improved facilities, and to tour the Redwood Campus," said President Weber. "This event is a way for RCC to showcase the great support we receive from our communities and to express our deep gratitude for the bond passage and the resulting state-of-the-art facilities for our students." President Weber began his RCC leadership on July 1, 2022.
With final touches in landscaping and small interior finishes underway, the project is coming in "on time and under budget," said Lisa Stanton, RCC Vice President of Operations and Finance/CFO. "That is the result of RCC's outstanding project management team." Funded by a 2016 RCC Service District bond measure of $20M, the new science building is just one of RCC's most recent projects completed with the funds. The project broke ground in April of 2021.
On the same day as the ribbon-cutting, RCC will be hosting an open house for any interested students, families and community members to learn more about college programs and financial aid. Campus tours and activities are available from 10 a.m.-2p.m. and guests may enjoy free ice cream and chances for prizes.
The nonprofit organization Wildlife Images will operate a wildlife interaction station and puppy petting will be offered at the Dogs for Better Lives station. There will also be cars on display and a lab activity in the Automotive center.
In addition to special hands-on experiences, visitors may speak with college advisors and find out how to apply for programs and financial aid. With staff assistance, potential students and families may learn about trades, RCC certificates and degrees and career wage jobs while learning about affordable pathways to four-year institutions.
RCC's Redwood Campus is located at 3345 Redwood Highway, Grants Pass. The new Science Education Building is located between the Welcome Center and Building H. RCC suggests using the East Campus Entrance from Redwood Highway, allowing guests to arrive at the closest parking lots for the ribbon-cutting. Open House visitors should proceed to the Welcome Center building.
Open House information may be found by calling 541-956-7217 or online at: www.roguecc.edu/openHouse. Click here to schedule an appointment with a Recruitment specialist.