At the time Kristen Morales finished high school in 2014, the question of what to do with the rest of her life was overwhelming. She took a year off of school to try to figure it out.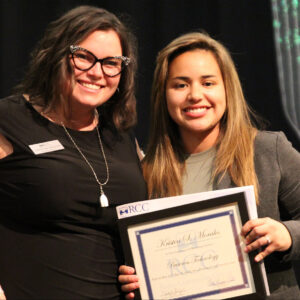 She started at Rogue Community College in 2015 but still didn't know what exactly she wanted. Always having been drawn to business, she took some prerequisite courses but ultimately decided to take another gap year.
Working various jobs around Grants Pass, she eventually started painting. Then she got into estimation and project management and talked with her family and friends about what she needed to do to get ahead in the field — and now she's back at Rogue to do just that.
"I was really nervous, especially about writing," Kristen recalls. "I didn't have the easiest time of it the first time, but Christina Wooten has been so supportive and her WR227 (technical writing) course has been really helpful and enjoyable."
"Since I re-enrolled, I've had things knocking on my door left and right. The business faculty recognized me right away, and the Teaching and Learning Center (TLC) has been so supportive." Kristen says. "Change is scary in anybody's life and it was a big step for me to apply for financial aid and jump in full-time for the first time but it's been such a good decision. Once you make your change good things start happening."

Kristen has a job working in outcomes and assessment with the TLC, as well as doing part-time project management work on the side. She's still a full-time student, is joining the Alpha Zeta Pi honor society this term, and was recently presented the 2022 Outstanding Student Award for Business Technology. Soon she'll be heading to Southern Oregon University to get her bachelor's in business management and a credential in project management. It's a long way to have come from the student who was nervous to take another writing class!
"I think RCC is a great school. They're really there for their students and they offer everything a student could need, tutoring and financial aid, the library is really great — and everything else. It's a great support system." Kristen says. "It's okay to ask for help. People don't judge you at RCC and you get the help you need."
— Gene DePuy