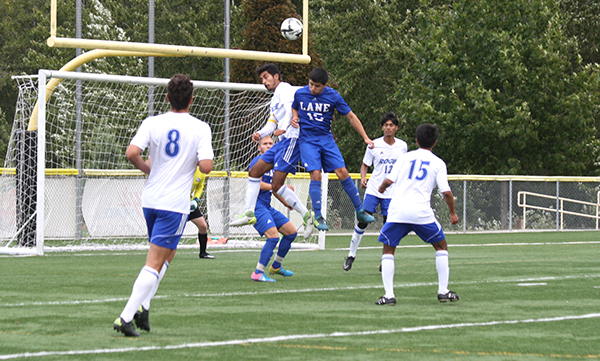 Rogue Community College's fledgling athletics program has taken flight this season, reaching several milestones in its third year with the Northwest Athletic Conference: In August, the college hired its first dedicated athletics director and, in October, the Ospreys men's soccer team earned its first-ever ranking in the coaches poll and a guaranteed spot in the playoffs.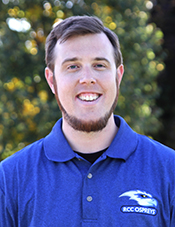 "It's been a very good couple of weeks for the soccer program," said RCC Athletic Director Darren Van Lehn, who took helm just as the season kicked off in August. Already Van Lehn's tenure has celebrated several victories: The men's soccer team was ranked 7th overall in the NWAC coaches poll on Oct. 6, the team's first official ranking; the team moved up to 5th place in the Oct. 20 poll. In another first for the Ospreys program, freshman defender Mauricio Sanchez was named NWAC Player of the Week on Oct. 6. And with two games left in the season, the men's 6-1-1 record means they're on a path to the playoffs for the first time ever.
While Van Lehn credits men's coach Greg Millick with leading the team to those successes, the addition of a dedicated athletic director means stability and expertise for the program said Kori Ebenhack, RCC's vice president of student services, who had been pulling double duty as AD for the past several years. "I think it means potential growth for the department," Ebenhack said.
Van Lehn, 32, is a familiar face on campus. He's worked as an academic and transfer advisor for the college since 2008, and continues to advise student athletes in his new position AD – in addition to myriad duties that range from lugging shade canopies to writing press releases.
"One of the reasons I was excited about working in a small program is that I can learn how every aspect of an athletics department is supposed to be run," said Van Lehn, who earlier this year completed a master's degree in sports management and athletic administration from Southern New Hampshire University.
"Darren's detail-oriented, smart and a hard worker," Ebenhack said. "I see him out on the field lugging water. It's one of the reasons he got the job; he's 100-percent dedicated to whatever it takes to make a successful program."
RCC, founded in 1970, never had an athletics program until Ebenhack was approached several years ago by community members who wanted to organize a soccer club. After two years as a club sport, the college received entrepreneurial funding to take the programs to the next level, joining the NWAC and launching men's and women's soccer and cross country.
The cross country team was furloughed this spring after coach Cole Watson left the Rogue Valley to join the USA Track and Field team. While it's an affordable program, running didn't gather as much interest as RCC had anticipated, Ebenhack said. "We have a lot of runners in the Rogue Valley, but we didn't get a lot of athletes" in the program, she said. "A decision hasn't been made on whether to bring it back."
Meanwhile, the soccer programs are helping attract younger students to the college, even drawing in students from out of state. "There are students coming to us from out of this area that would not have come to Rogue if it were not for soccer," said Ebenhack.
Athletics can help boost student retention as well. "Athletes who want to maintain their eligibility graduate at a faster pace than other students," Ebenhack said. "If they want to play, they need to keep up their grades to maintain eligibility."
Even at the community college level, the benefits of an athletics program aren't limited to success on the field, said RCC President Cathy Kemper-Pelle:
"Student athletes demonstrate every day the skills that employers seek – work ethic, self-discipline, communication, and teamwork. Our athletics program provides students an opportunity to develop marketable employment skills while displaying passion for their sport. Everyone in our region wins when we support athletics."
For more about RCC Athletics, visit https://athletics.roguecc.edu/. Follow the Ospreys on Facebook.