Rogue Community College faculty and administrators recognized the achievements of more than two dozen students who have excelled in academics or student leadership positions at the 22nd annual RCC Honors Night ceremony held at the Redwood Campus on April 22, 2022.
RCC Vice President of Student Affairs Kori Ebenhack hosted the event, which included opening remarks by Roger Stokes, chair of the RCC Board of Education, as well as special awards presented by RCC President Cathy Kemper-Pelle.
Kemper-Pelle introduced four RCC students who were named to the Oregon Community College Association's 2021-2022 All-Oregon Academic Team: Megan Capp, Devin Ireland, Max Rodbell and Bryce Charles Shoppert. Each year, 45 community college students from around the state are recognized for their academic excellence, leadership and community service.
Capp, a manufacturing major, was also named to the 2022 All-USA Academic Team. Ireland was selected as a 2022 Coca-Cola Academic Team Bronze Scholar.
The recipient of the President's Appreciation Award was Laura Quintero Antón, a student leader and community volunteer who has provided mentorship and support to other Latino students through the RCC Latinx Club and HOLA program. She also serves on the board of directors of Talent Maker City and volunteered at the fire help center in Talent, assisting Spanish speakers and others who were displaced by regional wildfires.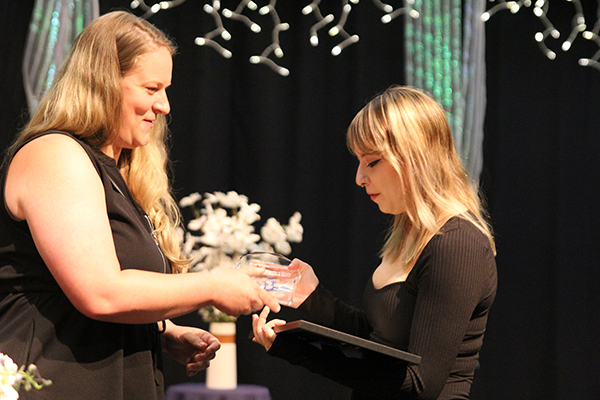 The following students were recognized at Honors Night:
All-Oregon Academic Team — Megan Capp, Devin Ireland, Max Rodbell and Bryce Charles Shoppert
President's Appreciation Award — Laura A. Quintero Antón
Outgoing ASG President — Isabella DeVlaeminck
ASG Leader (RWC) — Mia Cossio
ASG Leader (RVC) — Kaloa Mantilla Neukan
ASG Club Leader — Abraham Reyes, Latinx Club
TRIO SSS Achiever (RWC) — Carolina Gonzalez
TRIO SSS Achiever (RVC) — Lela Miatke
Student Employee (RVC) — Franco Melgar Martich
Student Employee (RWC) — Kelsey Carlson
Student Employee (TRC) — Sawyer Olson
Student Veteran (RWC) — Keaton Fournier
Student Veteran (TRC) — Gary Prewitt
Student Veteran (RVC) — Ricky L. France Jr.
Student-Athlete (Volleyball) — Devin Ireland
Student-Athlete (Men's Soccer) — Josue Reyes
Social Science — Brina Collins and Holly Lee Smyth
Welding — Bryce Charles Schoppert and Iain Pangburn
Dental Assisting — David Reyes Garcia
Visual Arts and Design — Whitney Elizabeth Barnard
Electronics Technology — Steven Van Ert
Science — Nikolas Sorensen
Computer and Information Sciences — Jeovanni Mendez Valencia
Math — Sage Bushman and Benjamin Walter Davis
Early Childhood & Elementary Education — Rhonda R. Schock
Business Technology — Kristen S. Morales