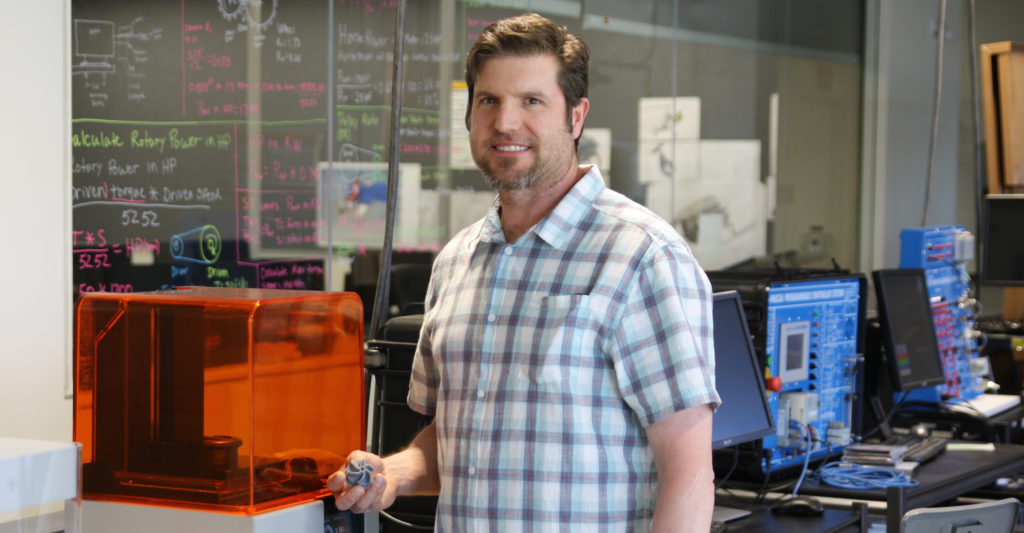 Jason Meyer has been racing dirt bikes since he was 14 years old. A self-proclaimed "dirt bike nut," he built an award-winning custom Honda CR500 in 2010, which was featured in two magazines and over a dozen industry websites around the world. And that was just the start.
"Building my own bike fulfilled a dream of mine," Jason said. He remembers being the oldest and biggest kid in the neighborhood with the smallest bike. These engine-powered vehicles—a hybrid of motocross (BMX) and motorcycle—defined his teen years and continued to provide a recreational outlet well into adulthood. Jason now owns and operates an exclusive parts design and manufacturing company called MSV Racing. But his journey toward entrepreneurship wasn't a straight shot.
In 2014, Jason was employed at Brammo Electric Motorcycles in Ashland as an engineering technician and got caught up in a company-wide layoff. He discovered the state's TUI program (Training Unemployment Insurance), which allows displaced workers to go back to school while on unemployment by extending their benefits coverage an extra six months.
"I decided to enroll in RCC's one-year High Technologies Certificate program to gain more marketable skills. But what I found when I got there opened a whole new world of possibilities beyond my day job," Jason said.
His one-year program turned into a two-year associate's degree in manufacturing and engineering technologies. Under the expert guidance of RCC instructor Stephen Foster, chair of the Manufacturing/Engineering Department, Jason started designing and producing parts for motorcycles.
"I had ideas in my head but couldn't do anything, but RCC opened the door, and I realized I could do it myself and learned how," Jason said. He used the school's 3-D printing technology to create a prototype of a unique motorsports component, and it worked. "So I made 50 of them and started selling them on Facebook, and they took off. People were just eating them up. So my wife and I decided to start a business and it has continued to grow."
Today Jason designs multiple precision parts and collaborates with a machine shop to produce the parts. All of his products are sold online through the company's website, msvracingpowersports.com.
"I learned all this from RCC," he said. His degree program included training in Solid Works, a computer-aided design program, as well as hands-on instruction in laser technology, metallurgy, lean manufacturing, math and science courses, and even human relations classes that equip students to perform in the business world.
"Jason worked with an enthusiasm and drive that was amazing," Foster said. "Some of the stuff he was designing was pretty incredible. It was an awesome thing to see his ideas come to fruition."
The admiration was mutual. Jason says the support he received from his RCC instructors made a huge impact on his success.