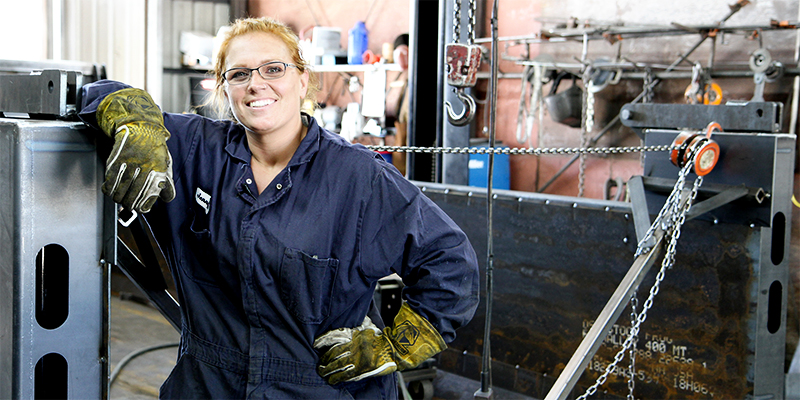 Trucks aren't just for boys. Jennifer Stoker can testify. As a graduate of RCC's Manufacturing/Engineering Technology program, this no-nonsense mom of four spends her workdays at Hassell Fabrication in Ashland making truck beds for some of the largest semis on the road.
And she loves every minute of it.
"I chose manufacturing because I wanted to do some hands-on work and employ my creative side into my technical side," Jennifer said. "And because I felt like the machine shop type environment would be more forgiving of my background."
Hers is a story of remarkable transformation. The daughter of a drug-addicted single mom, Jennifer was homeless at age 12. By the time she was 15 years old, her mother had died, and Jennifer dropped out of school. She continued down the only path she knew in life, toward substance abuse and lawless behavior. Even after her children were born, she continued taking drugs, racked up a lengthy rap sheet, and eventually landed in jail.
When she lost her four children to the foster care system, Jennifer decided to turn her life around.
Eight years ago, she enrolled in an addiction recovery program and began working at a 7-Eleven in an attempt to stabilize her life and get her kids back. She has been clean ever since.
"I decided to go to college because I was tired of working so many hours, for minimum wage and for bosses that didn't care about me or turnover rates," she explained. "I have a criminal record and I always felt stuck at dead-end jobs because I had this terrible record and no positive training or education beyond a GED to balance it out. I needed a ticket to get my foot into a good job so I could support my four children. I was concerned because I had not been to school since the eighth grade and wasn't sure if I could do well enough to get me anywhere."
When she got to RCC, however, Jennifer discovered she was actually quite skilled at most subjects, and the staff and instructors were incredibly encouraging. "I enjoyed all my classes, especially with our department chair, Steve Foster," she said. "He was especially supportive."
Jennifer took advantage of every opportunity to learn and practice in RCC's hands-on shop and training facilities. She earned a scholarship from the RCC Foundation, which enabled her to focus on her studies. After two years of steady hard work, Jennifer graduated—with honors.
"RCC taught me that I am so very capable of whatever I want to do," she said. "I learned that as long as I suit up, show up and do my best, that anything is possible. I also learned that there is so much more to learn than I ever imagined before. It is overwhelming in an absolutely inspiring way."
Today Jennifer's younger children are living under her roof, along with two siblings from her recent marriage to a "wonderful man" who is also walking in victory over addiction. Together they are raising eight kids and caring for Jennifer's 85-year-old grandmother. Her story is proof that a bright future is within reach, no matter how tough your past may be.
"I have goals in life now," she said. "I want my own shop at home where I can fabricate my creative heart out, and I also want to grow plants and make beauty products from oils like lavender, rosemary, mint and sage. I definitely have a vision but will need to learn some business strategies and accounting, which I know now that I can do, thanks to RCC."
To anyone considering the leap to community college, Jennifer's advice is simple: "Do not limit yourself. Learn everything you can. Show up early and work hard; don't quit."
Wise advice for us all.