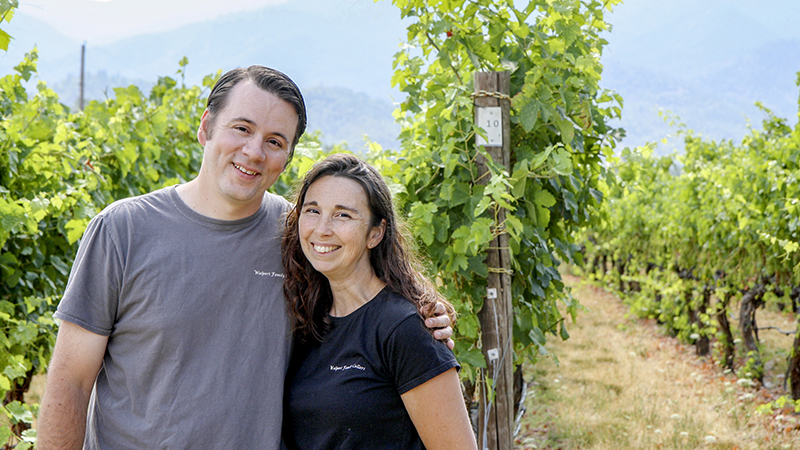 Each year, the RCC Foundation honors a distinguished former graduate with the RCC Outstanding Alumni Award. This recognition is granted to a person who has completed a certificate or degree from RCC and has achieved notable success in either their chosen profession or society betterment. The Outstanding Alum is selected from a pool of candidates nominated by members of the local business and philanthropic community. This year the Outstanding Alumni Award is granted to not just one individual, but a married couple—Eric and Amy Walport, owners of Walport Family Cellars in Applegate.
Eric and Amy met at RCC, where Amy earned a pre-med transfer degree and Eric took classes in math and science. Both transferred to four-year universities to further train for their careers. Today, in addition to running the family vineyard, Amy works as an optometrist in Medford, and Eric maintains a demanding career with CIRCOR Aerospace, Inc. At home, the couple is busy raising a young daughter.
RCC has had a foundational impact on our careers and our decision to pursue the creation of the winery here in the Applegate Valley," Eric said. "The college not only provided us with an education that we would leverage to complete our degrees in mathematics and optometry, but also allowed us time to understand what educational and career objectives we wanted to pursue long-term.
The Walports were nominated by RCC staff member Amy Durst, assistant to the Vice President of Instruction. She said, "I truly believe that the Walports are excellent role models for our students. They have fantastic careers and came 'home' to start their own business. They prove the sky is the limit!"
Eric and Amy are avid supporters of RCC and its value to students and the community as a whole. "RCC provides an array of educational opportunities to a diverse set of students and is able to do so at a substantially lower cost than a four-year university, while also being flexible to student schedules and needs," Eric said. "This allows more people better access to education and supports individual students' goals. The return on investment is not just realized at the individual level but within the community as well, by providing the benefits of an educated workforce."
The Foundation will present the Outstanding Alumni Award at its President's Circle event in September. The college is proud to recognize Eric and Amy Walport as two of our richly deserving and inspiring alumni.