Student innovators at Rogue Community College have developed a winning plan to produce prosthetic legs for man's best friend.
Using 3D printing technology, a team of five RCC math and engineering students created a pooch-friendly prosthesis that topped the community college division in a statewide innovation competition held June 28 at Portland State University.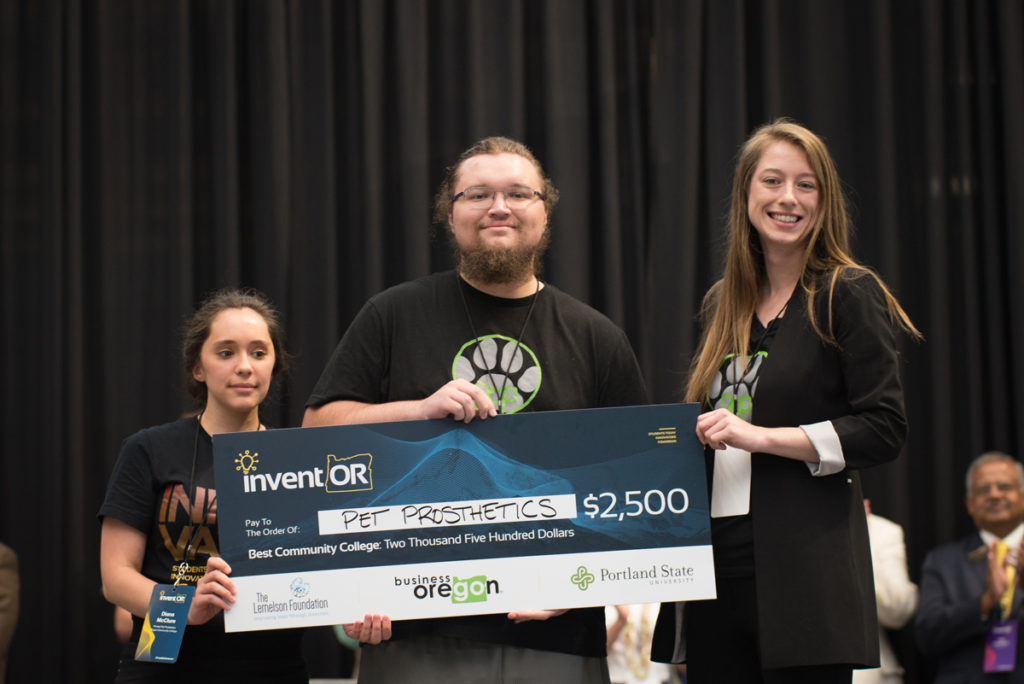 The team, dubbed Printed Pet Prosthetics, received $2,500 and the title of Best Community College Team at the InventOR Collegiate Challenge, an innovation competition organized by the PSU Center for Entrepreneurship. Now in its third year, the InventOR program has grown from five schools in its first year to 17 colleges and universities participating this spring. The community college division was added in 2018 and RCC teams claimed the title two years in a row.
Team members Loren Langdon, Stormi Backus, Diana McClure, Tom Close and Harley Bruno met through an engineering club at the RCC Riverside Campus in Medford. Langdon, who worked for several years as a veterinary technician, presented the group with a problem: while amputation is relatively common for dogs due to accidents, cancer or other medical conditions, there's a lack of affordable prostheses for pets who have lost a leg. Walking on three limbs can lead to hip dysplasia or other problems. "It's a sad situation," Langdon said.
Using a 3D printer, the RCC innovators designed and tested a prototype to restore mobility to these dogs – and competing for a spot at the InventOR statewide competition. Through the InventOR program, Printed Pet Prosthetics received coaching and $3,000 to develop their prototype. In the final competition, the team won another $2,500. They've formed an LLC and are continuing to test and hone their product with the goal of creating an affordable prosthesis that can be adjusted to a custom fit.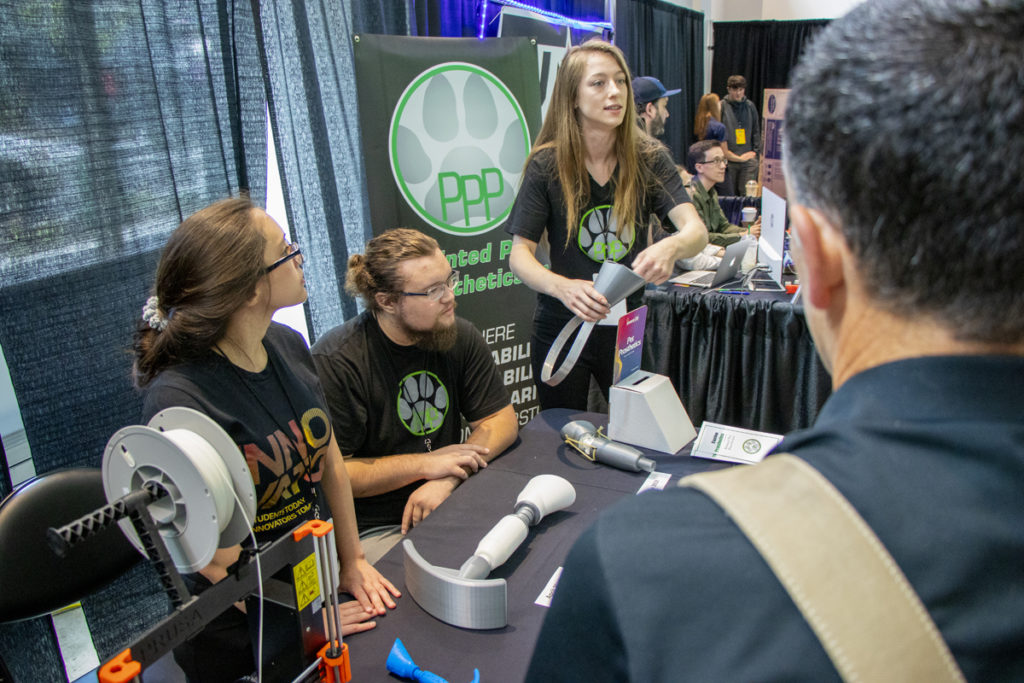 The team is also starting to set their sights on larger projects. "Horses don't really have an option once they break a leg," Backus said. "We want to be that option."
In 2018, RCC's Mission Franklini won the community college division for its design of a non-lethal device for counting pollinators.
Turner Automotive, a second team from RCC, also competed in the 2018 finals. Blake Turner continued to hone his design after transferring last year to Portland State University where he met partner Sean Krivonogoff and entered the competition again. This year, Turner's kit that converts any internal-combustion vehicle to hydrogen power received a $5,000 second-place award in the overall competition, as well as the $2,500 People's Choice Award.
This year's $10,000 grand prize went to a team of women engineers from Oregon Tech who developed a system for recycling waste plastic into crude oil. Claiming several categories as well as the top prize, The Reclaimers took home $21,000 in cash prizes as well as a $2,500 legal startup package and the opportunity to pitch at the Bend Venture Conference this fall.
Teams are judged on the quality of their ideas, the strength of their pitches, and the viability of their prototypes. Over the course of the year, students participated in preliminary invention competitions on their home campuses before advancing to the semifinal round of InventOR Collegiate Challenge at PSU in May, where 21 teams were selected to advance to the finals. Teams received $2,500 to fund the development of their prototype before the June 28 final.
The InventOR Collegiate Challenge is sponsored by The Lemelson Foundation, Business Oregon, Wells Fargo, Oregon Community Foundation, the Oregon Lottery, Stoel Rives, Jama Software and Horan MediaTech Advisors.