Uriah Barrows is shooting for the moon, literally. He wants to be an astronaut.
It's a lofty goal, but the 31-year-old student veteran is disciplined and determined – and has a record of achieving what he sets out to do. After two years and a term on the honor roll at Rogue Community College, Uriah transferred last fall to the University of California, Berkeley. He's working toward a bachelor's degree in physics.
Ranked one of the top 25 schools in the country by U.S. News and World Report, Berkeley has a track record for producing NASA astronauts – at least 10, so far. Uriah thinks he also has the right stuff.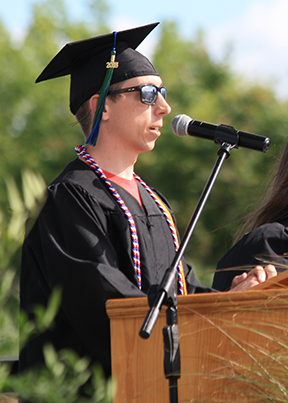 "Since I was a kid, I wanted to be an astronaut," he said. "Astronauts are just people. It's not impossible."
Spend some time talking with Uriah, and he'll have you convinced that if anybody can achieve their childhood dream, he will. "It's not a dream," he said. "It's my end goal. And I won't be satisfied until I get there."
His trajectory wasn't always so clear. After six years in the Marines, where he worked on radar systems for air traffic control, Uriah was a little apprehensive about going to back to school. RCC's student resources helped him find his path.
He leaned on Veterans Services for help navigating the GI Bill, and saved money on textbooks by using the Veterans Resource Center lending library. The center also provided a comfortable place to study and meet other student veterans.
Initially cautious, Uriah enrolled part-time his first term. "I didn't want to jump into something big and fail," he explained. "Once I realized I was doing good, I wanted to test my limits."
He loaded up on math and science courses, consistently earning a spot on the honor roll. Enrolling with TRiO Student Support Services helped him set up for success. The federal grant program provides advising, tutoring and enrichment activities for students planning to transfer to a four-year college or university.
Once Uriah started feeling more comfortable on campus, he looked for opportunities to get involved. He joined the physics club and student government, where he was student body president for the Riverside and Table Rock campuses for the 2017-2018 school year.
A lifelong tinkerer, Uriah jumped at the chance to participate in the InventOR Collegiate Challenge when the innovation competition came to Rogue last spring. Together with partners Nicholas Mantheakis and Thomas Close, the trio developed a prototype for a device that counts bees and other pollinators without harming them. The team, dubbed Mission Franklini after the Franklin's bumblebee, won the community college division and a $2,500 prize at the state competition.
The experience also helped Uriah prepare for the competitive environment at Berkeley. Checking in after his first semester at the university, Uriah said he faced a huge learning curve jumping into upper division physics courses. But he's settling in.
"I have to definitely schedule my time. I have to schedule time to go to the gym, to sit and relax and drink a cup of coffee," he said.
But he feels prepared for the next step on his path. "It's sort of reminiscent of my time in the Marines. There was no option other than to succeed, and you had to work really hard to make sure you were going to."