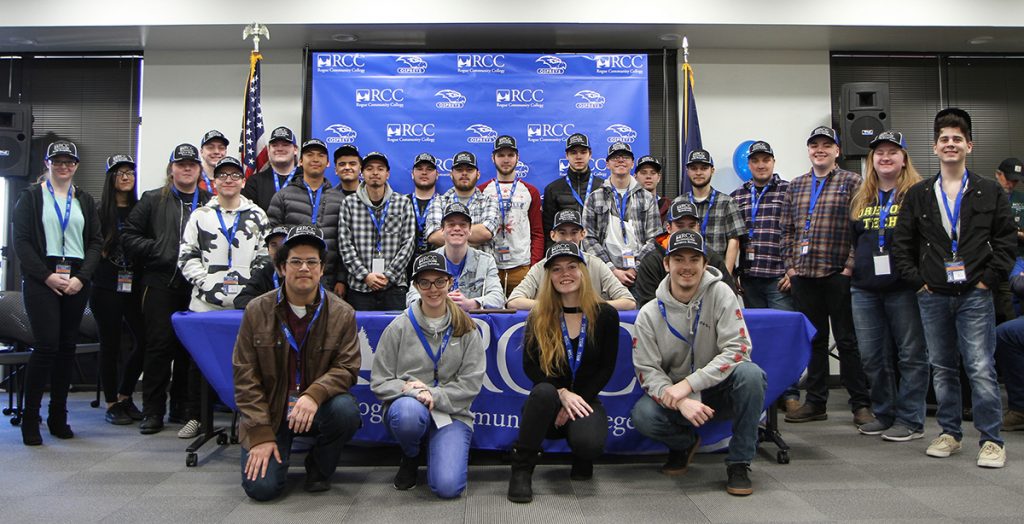 Rogue Community College welcomed and celebrated the futures of 29 students who took a key step toward establishing skilled careers at RCC's 2019 CTE Signing Day. The second annual event was held Feb. 21 at the Table Rock Campus.
CTE Signing Day mirrors the NCAA National Signing Day for athletes who commit to play sports in college. At the RCC event, students from six Southern Oregon high schools committed to study with one of RCC's career and technical education (CTE) programs. Technical education prepares students for strong careers in expanding work sectors, grows a highly skilled workforce, builds families and sustains communities.
Twenty-nine students participated in the event, marking considerable growth from the inaugural event in 2018, which welcomed seven students to the college. This year's participants included students from the following high schools: Armadillo Technical Institute, Eagle Point, Grants Pass, Hidden Valley, Phoenix and South Medford.
Students who signed with RCC during the event reserved their spots – and priority registration for fall term 2019 – in one of these highly competitive programs: automotive technology, diesel technology, electronics technology, emergency services, graphic design, health occupations, manufacturing, mechatronics and industrial welding.
Participants also received RCC hats and duffle bags loaded with industry-specific gifts and information. The event was sponsored by industry partners Carestream, Erickson, Gordon Truck Centers, Highway Products, Hy-Speed Machining, Industrial Source, Quantum, Republic Services of Western Oregon, RockAuto and Snap-on.
Event speakers included RCC Board of Education members Ron Fox and Shawn Hogan, vice president of engineering for Linx Technologies; Jennifer Eek, human resources specialist for Freightliner Northwest; and Don Moss, division manager for Republic Services.
RCC welcomes the following students to the college:
Automotive Technology
Alex Allen – Hidden Valley
Oswaldo Bencomo – South Medford
Christopher Dudgeon – Eagle Point
Jarrod Ferrante – South Medford
Lillie Kent – GPHS Gladiola Campus
Marcos Rodriguez – South Medford
Rafael Rosales – South Medford
Diego Velazquez – Phoenix

Digital Graphic Design
Brandon Bergeron – Hidden Valley
Andrew Marks – Eagle Point

Diesel Technology
Broderick Bergstrom – Phoenix
Levi Strong — Eagle Point

Electronics Technology
Caitlan Heath – Hidden Valley

Emergency Services
Tyler Gwilliam – Eagle Point
Spencer Simons – Hidden Valley

Health Occupations
Kamren Crandall – Eagle Point
Ashley Fincher – Eagle Point
Citalli Guerrero – Phoenix
Rebecca Headding – Grants Pass
Fabiola Granados – Phoenix

Industrial Welding
Garrett Fredrickson – Armadillo Tech
Brandon Knott – South Medford
Joshua McDaniel – Phoenix
Cole Smith – South Medford
Nicholas Unruh – Hidden Valley
Roman Vallejo – Armadillo Tech

Manufacturing/Engineering Technology
Levi Dimmick – Grants Pass
Ivan Serna – Phoenix

Mechatronics Technology
Liam Gruszczenski – Eagle Point