Noelani Beard's dedication to her craft has spanned nearly 5,000 miles from the island of Hawaii to Southern Oregon and across the continental United States to Raleigh, North Carolina.
When a person takes the difficult step into the unknown, there is a vulnerability in not knowing what comes after. For Noelani, it has been no different. Growing up on the islands with limited recruitment opportunities, she had to find a way to stand out, challenging herself to do things she did not think she was capable of.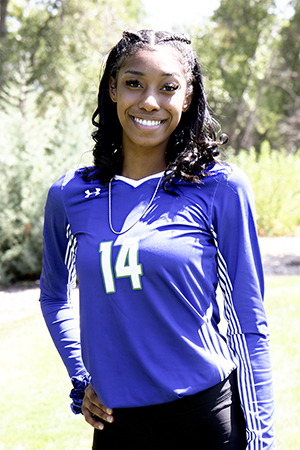 Noelani began her college career at Rogue Community College in Medford, Oregon, taking a risk on a first-year volleyball program across the ocean from home. After playing on a state championship basketball team in high school, Noe's decision to attend Rogue also meant she had to set aside her basketball ambitions as RCC doesn't offer hoops.
However, Noelani is a fierce example of a strong-willed and intelligent student-athlete who does not quit. Being the first NCAA Division II athlete out of RCC and a two-sport athlete, she's on course to do great things.
Born in Kāne'ohe on the island of Oahu, Noelani's parents are both former athletes. Her mother played volleyball and her father was a professional basketball player overseas. Anyone with parents who are athletes knows how hard it can be to live in that shadow. Noelani emerged from her sophomore year in high school with fierce confidence to pursue her dreams.
Noelani's character and strong will made her a perfect fit for RCC in the eyes of head volleyball coach Christine Nelson. Noelani checks every box on the RCC Athletic Department's mission statement: she is hard-working, respectful, acts with integrity, and has an ambition that will carry her wherever she wishes to go in life.
For Noelani, RCC was an easy choice. The culture that RCC fosters is one of inclusivity and has a family-oriented atmosphere. As Noelani reflected on what brought her to RCC, she discussed her desire to grow and push herself as an athlete and student. Being so far from home was a challenge in itself, yet her desire to grow came from a fundamental understanding that we do not get anywhere in life by staying put. Noelani saw RCC as a steppingstone to her future.
Not only did she blow her goal of starting for RCC out of the water, but Noelani also was instrumental in helping the Ospreys win the Northwest Athletic Conference South Region Championship in the team's inaugural year. The team took 5th place at the NWAC Volleyball Championships.  
While Noelani is a dedicated athlete, she is a student first and took her time at RCC seriously. She made the honor roll for 2019 and 2020. She attributes her success mainly to the relationships she built with her teachers. She also noted that her time as a statistics tutor really helped her; she had become so dedicated to doing the very best she could that it almost became a competition with herself to do better and better.
TRIO Student Support Services was also very helpful to Noelani during her time at Rogue. TRIO SSS is a program that helps students stay on track as they pursue transferring to complete a four-year degree.  
On the volleyball court, Noelani racked up a number of personal and team-related achievements. Noelani was second on the team with 283 kills in 2019 and led the team in 2020 (a limited COVID season) with 171 kills. Noelani has shared in excellence, being the second and third single-season kill record holder. She had 454 total kills at RCC, a school record. She was named NWAC 1st Team All-Star, South Region Player of the Week, Academic Excellence recipient, and a two-time South Region champion. 
For Noelani, the COVID-19 pandemic hit differently. She was in a new state, going to school in an unfamiliar environment and expected to produce the same and have zero complications along the way. She could not practice with her team as social distancing was in full effect — she could not attend in-person classes, could not work out the same and had to find new ways to keep her body in shape for the volleyball season that soon followed.
The transition was difficult, but for her it allowed a new perspective and new ideas to flow. "Not having the team setting really, you know, helped me to find my own path. Traditionally you would have all of us practicing together, but I had to find my own path and, really, a new perspective," she said. In all, the biggest challenge was the separation from what had been to what was. She coped by believing in herself and staying grounded. She had come from winning programs and was able to stay focused with a winner's mentality and the belief that she could overcome anything.
Being a person of color in a predominantly white town was never something that made Noelani uncomfortable, but rather something she embraced. She felt accepted for who she is and was not expected to be anything more or less than who she is.
While the transition from rural Southern Oregon to Shaw University in North Carolina was quite the change, that was a part of the excitement for Noelani. Shaw University is a Historically Black College/University (HBCU), which means a different culture and history than anything Noelani had experienced. "I am still figuring things out," she said. "This is a really big change, and the process is not going to happen overnight. This is a huge opportunity to be a part of a community where I am understood, and people look like me."
Noelani is majoring in political science and plans to pursue her longtime goal of becoming an attorney.
— Ian Fulton