…and individuals that support education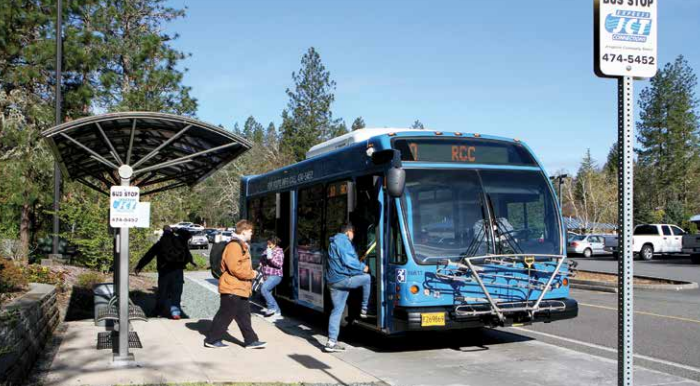 Each year, Rogue Community College recognizes an individual or organization with the RCC Outstanding Citizen Award.
For 2019, RCC honored Scott Chancey, program supervisor of Josephine County Transit, for his distinguished service to the college and community in providing an affordable and reliable pathway to RCC.
In the past 10 years, Chancey has ensured the affordability of the JCT services; worked with RCC to set up an easy system of verification of student status; expanded the route to Cave Junction to serve the Illinois Valley riders; maintained appropriate service access to students with disabilities, and he has contracted with a mobile app used to track bus location and arrival times.
Chancey secured funding for a commuter line that connects JCT and Rogue valley Transportation District in Jackson County. Our students can now transfer between Jackson and Josephine County to all RCC campus locations. It is a major accomplishment to move students around our entire service area!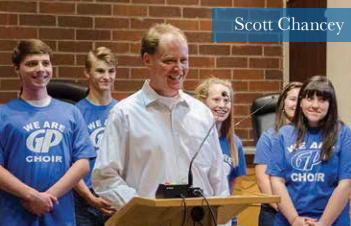 "I too was an RCC student," Chancey said. "RCC helped me mature as a student, a young man and enter into adulthood more confident than I thought was possible."
Chancey attended RCC for two years, gaining knowledge and a study ethic, and then transferred to Southern Oregon University where he earned a degree in economics. "I definitely would not have been the student I was at SOU, or in the career I am in now without RCC, and I remain ever grateful," he said.
One student who needed an affordable way to Redwood Campus sums it up: "Without the RCC bus pass, it would not have been possible. On the bus, I saw other students from school and got a chance to interact with them outside of class. I even learned about some clubs I did not know about just from making friends with students on the bus. When I moved to Rogue River, I was still able to stay at RCC by using the commuter bus and transferring at the courthouse in Grants Pass. The bus was a big part of my experience at RCC."
In 2018 RCC honored two organizations: AllCare Health and Carestream Health
AllCare Health is a physician-led organization leading the way to better and more cost-effective health care, serving over 50,000 Medicare and Medicaid members in Southern Oregon.
AllCare is also dedicated to giving back to their communities. In 2018, AllCare provided financial support to over 150 local organizations and programs.
At RCC, AllCare has provided scholarship and program support, and most recently they were RCC's single largest donor supporting our new Health Education Center.
Carestream Health is a worldwide provider of medical imaging systems and other advanced manufacturing products, and a generous supporter of community and economic development.
The leadership at Carestream, Mike Donnelly and Mike Tylutki, began a remarkable relationship with RCC faculty in August 2016, which led to collaboration for enhanced current program curriculum, a new mechatronics program, a course in programmable logic controllers, and activities that prepare our students for work.
In addition, Carestream has generously donated equipment and scholarship funding to the RCC Foundation.