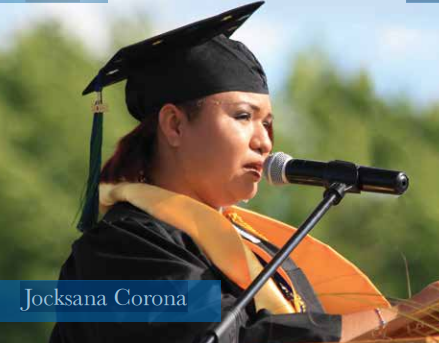 Jocksana Corona started college at age 30. As a busy wife and mom, adding a full course load to her daily routine was challenging at first—but she credits the RCC community for making it possible.
"RCC enabled me to build meaningful connections and support," Jocksana said. As a student in the Human Services associate degree program, Jocksana was part of a limited enrollment cohort, meaning for three years she Seamless took classes with the same group of students, led by a select group of instructors. "The cohort format helped me thrive academically and personally because it was like a family," she added. "They really cared about my achievement."
Jocksana performed so well at RCC that she was awarded the Ford Family Foundation Restart Scholarship, which opened the door to a four-year university transfer. She is now pursuing her bachelor's degree in psychology with a minor in Spanish at Southern Oregon University.
"I had to switch gears and prepare for the different culture of the university, which is very fast-paced and filled with much younger students," she said. She is grateful for the confidence RCC instilled in her, which is enabling her now to face the challenges of pursuing a higher degree in a more autonomous environment. "While I was a student at RCC, I received so much support from teachers, advisors, counselors and the RCC Foundation. They set me up for success."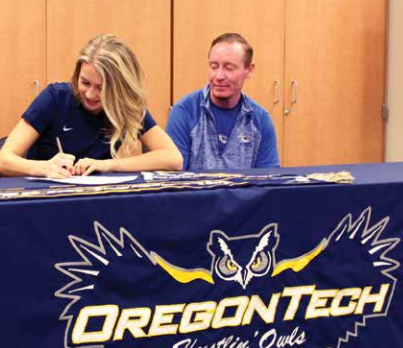 Haley Janky had a similar experience. As a member of the RCC women's soccer team, she found her support in sports. "RCC was a really great starting place for me, because I was able to get more one-on-one help being at a small school. With coach Rusty Veth, our athletic advisor Darren Van Lehn, and of course my teammates, there was no way I could fail," Haley said.
Rusty made sure the players stayed on top of their studies and pushed them continually for excellence. Haley believes this helped her stay focused and taught her to manage her schedule well. Then when it came time to transfer to Oregon Institute of Technology for a bachelor's degree in radiologic science, Haley said Darren helped her navigate all the college requirements. "I don't know if I would have been able to figure everything out without him," she said. "He always went above and beyond to make sure all my ducks were in a row, ensuring that I would have a smooth transition to OIT."
That transition involved not just academics but soccer as well.
"Rusty taught me what to expect in the next level of collegiate sports. He took time out of his schedule during the summer to help me train, ensuring I was prepared to play at OIT," Haley said. "Not to mention playing for RCC got me noticed by OIT's head soccer coach in the first place. I will never be able to thank Darren and Rusty enough for everything they've done for me."
What's ahead for both students? While only time will tell, both Jocksana and Haley are setting their goals high.
"I have so many 'dream' jobs, either working with children, in higher education or for a community resource center," Jocksana said. "One thing I know is that I want to work with people who have overcome adverse experiences due to drug and alcohol addiction. I plan to pursue my Certified Alcohol and Drug Abuse Counseling License once I graduate from SOU. And I hope to one day work at RCC and help other students just like so many staff members helped me."
Once Haley graduates from OIT, she'll spend a year completing an externship with Rogue Regional Medical Center in Medford. Afterwards, she hopes to find a good job as an X-ray technician specializing in mammography.
Both women encourage anyone considering a degree to start off strong at RCC.
"Choosing RCC over a university for the first years is a financially beneficial decision, for one thing," Haley said. "You can get many required courses completed at a fraction of the cost. So, do yourself a favor and take advantage of it as much as you can."
"There is always someone who is willing to help you," Jocksana added. "Enjoy your college journey whether you are 18, 25, 30 or 35 like me!"
For more information about RCC's transfer programs, visit us online at www.roguecc.edu/transfer, or www.roguecc.edu/TRiOSSS.