The RCC Foundation provides scholarships and inspiration to hundreds of students every year. For many of them, their path is not possible without the Foundation. Michelle Markus, a welding student, is one example.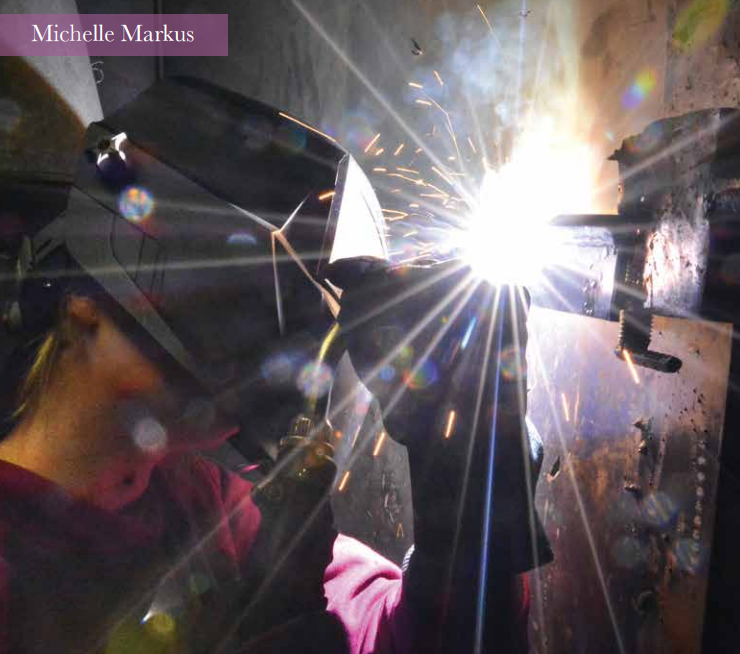 Michelle loves welding. On the surface, it might seem a strange career choice for a female, but get to know Michelle and you'll soon discover it's the perfect trade for her. She is passionate about art, travel, and inspiring people with her work. And welding just so happens to encompass all of it.
"It has been my lifelong dream to become a welder and create art with metal," she said. "I enrolled in RCC to earn a degree to achieve these goals."
As a student in the Rogue Community College welding technology program, Michelle suits up in coveralls and safety glasses alongside her classmates and impresses them all with her prowess for the craft. "When I first started in the welding program it was very intimidating for me to walk into that first day of class knowing that I would be entering a classroom of only men. I remember feeling hesitation and vulnerability," she said. "Looking back that seems so silly now because I have only been treated with the utmost respect from my fellow classmates and teachers. I know that everyone who has gone through the welding program at RCC can agree that we are beyond blessed to have such amazing instructors that genuinely care for our success."
A transplant to Southern Oregon from Nebraska, Michelle is no stranger to braving uncertain terrain. At only 27 years old she has already backpacked solo through 11 countries and lived in six different states. She moved to the Rogue Valley three years ago and loves it here. "I feel extremely lucky to be able to experience Oregon up close and personal and enjoy all the beauty it has to offer," she said.
In fact, her interest in experiencing new places and cultures is one of the primary reasons Michelle was drawn to RCC's welding program. "The first thing that intrigued me about welding was the fact that there are positions where you must travel a lot for work," she said. "I always thought that was such a cool idea, to travel around to beautiful places working seasonally."
Another appealing aspect of welding is its variety. "There are so many directions you can go with the trade, many different ways to weld and a wide variety of jobs to choose from," she explained. "So I knew it would be very hard for me to get bored!"
As Michelle began learning the different techniques and processes of welding, it became clear to her that "the possibilities are literally endless," she said. "As long as you can imagine it, you can create it."
That discovery appeals to Michelle's passion for art. Her ideal career would involve a balance of hands-on labor and freedom of expression. "Wherever I end up, welding will be more than just a job," she said. "It will be an outlet to help me inspire people with art, and also provide practicality through fabrication."
Michelle is grateful for tuition assistance from the RCC Foundation, whose help has made it possible for her to receive an education that will lead to a lifelong career. Michelle received three scholarships: King Family Endowed Scholarship; Robert & Leona DeArmond Scholarship and the Sally L. Smith Memorial Endowed Scholarship. "The RCC Foundation has played a powerful role in my success throughout my college experience," she said. "They have given me the gift of freedom—to continue my education without financial stress, and to focus more of my time and energy on school."
To learn more about RCC's welding technology program and the many scholarships available through the RCC Foundation, visit www.roguecc.edu or www.rccfoundation.org.