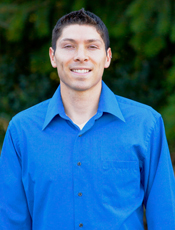 Hi, Javier here from Rogue Community College. When I was a senior getting ready to graduate high school, pondering my future, I had dreams and passions, but I didn't know where to begin.
What I did know was, I wanted to earn my college degree; find a fun, stable job with good wages and, of course, benefits.
With everything happening so fast and my next steps unclear, I was in need of some help.
That's when I came across the friendly staff at Rogue Community College.
I made an appointment one day with one of the advisors. He made everything perfectly clear to me, like what classes I should sign up for, cost of tuition, how to get financial aid, how long it will take to finish.
Every question was answered.
I felt so confident leaving our meeting that I could already picture myself doing what I love.
The rest is history.
I earned my two-year degree and now I do love my job, which is to help people get on the path to their future.
Start your path and call me Javier at 541-956-7217 or apply now online at www.roguecc.edu.