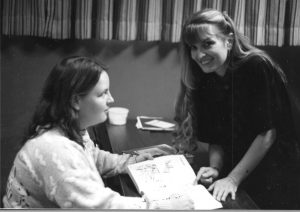 Suzanne Chavez has watched Rogue Community College grow and change since it began in 1970. What started with a few buildings in Grants Pass has now grown to cover two counties and has three separate campuses.
"I've always liked Rogue," said Chavez, 61, who currently teaches Spanish courses there as well as oversees the college's Foreign Language department. "In this case, the name 'community college' is really apt. Our classes are small and it feels like our instructors really get to know their students and care about them."
Chavez got her start at RCC teaching community education classes in conversational Spanish in 1986. Her first evening class had just 15 students.
"It was really a lot of fun for me and I liked it," she added.
She continued to teach the course over the next few terms while she juggled her work as a waitress, private tutor and Spanish interpreter for the court system.
College officials asked her to teach a first-year Spanish course for credit the following year. Several students wanted to continue learning Spanish but RCC didn't have a second year course.
"I asked if I could develop one and my department head said yes," Chavez said.
That brought the number of foreign language offerings up to two French courses and two Spanish courses. This year, Rogue now offers 12 sections of Spanish, one section of French, one of Italian and one section of American Sign Language, its newest course, on two of its three campuses. "It has been really exciting to add more offerings," she said, adding the department is working to add an on-line Spanish course as well as one geared more for high school students.
"Rogue is such a great school and there is just a lot of diversity in our classrooms," Chavez said. "We have students who are home schooled, former timber workers and people in their 80s wanting to learn. It's a lot of fun to have people with such different lives in my classes. And I know my colleagues really go out of their way to help their students."
She took a three-year break from RCC to teach at the high school level but found herself wanting to return. When a full time position opened up teaching Spanish and overseeing the department, she jumped at the chance to come back.
Chavez said it has been wonderful to watch the college transform. Coates Hall wasn't even built when she started. Computers were just starting to become popular and many in the faculty saw the potential for them.
"A lot of the faculty members made one-time donations and other donated from each paycheck to help get Coates Hall built," she said.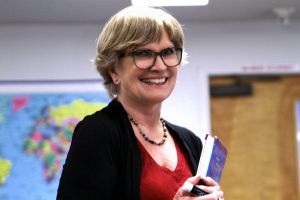 Computers and the internet are integral parts of courses for students. One example, she said, is her department's French course. The class is physically taught at the Riverside campus. Students can also take the course at the same time at the Redwood campus via long distance learning options.
"It has really opened up some options for people and the school," Chavez said. "I think it will continue to allow us to reach out to our students and be more inclusive in the community. Education has just changed so much from when I started.

"RCC has really come a long way," she added. "I think we are continuing to grow because we all put a lot of emphasis on serving our students and our community. We make changes to programs to meet the community's needs."