Do you love to sing? Rogue Chorus is relaunching in January, and the group is open to community members as well as Rogue Community College students who enjoy singing choral music.
Open without audition to all singers high school age and up, the chorus practices weekly at the Rogue Auditorium on the RCC Redwood Campus and typically gives a concert at the end of each term, as well as other occasional performances such as First Fridays downtown Grants Pass or as participants in the Annual Messiah SingAlong in Josephine County.
The chorus rehearses Mondays from 6-8:50 p.m. The cost is $49 per term through RCC Community Education for singers who aren't interested in earning college credit. Or, register for MUS199 to earn
one credit per term.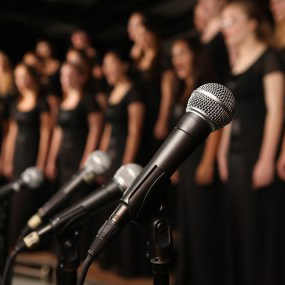 The group performs a wide variety of music including classical works, patriotic and traditional music, Broadway selections, contemporary choral compositions and a cappella arrangements. Chorus members often comment that being in the chorus provides a place not only to sing but also to connect with others and make friends.
The chorus has been on pause for nearly two years due to the COVID-19 pandemic. RCC Music Coordinator Chiharu Sai said the group is ready to resume with precautions in place, particularly social distancing and special "singer's masks" that allow extra space around the mouth.
The chorus has a new director, Bernadette Mondok Keller, an accomplished voice and piano instructor. "She's a fantastic teacher," Sai said, adding that RCC plans to establish a chorus in Medford later next year that Keller will also lead. "We're hoping to bring in more music students who need to participate in an ensemble for credit."
RCC offers a variety of introductory music classes that prepare students for transfer to a four-year music program. "If students want to go into music education or a music minor or major, they have to take a series of music theory and aural skills courses," Sai explained.
Music is part of the RCC Humanities Department, which also offers courses in literature, world languages, religious studies, philosophy, writing and speech. The humanities are part of RCC's Art, Humanities, Communications Pathway, which often leads to an associate of general studies or Associate of Arts Oregon Transfer (AAOT) degree for students planning to transfer to a four-year university.
During winter term, which begins Jan. 3, RCC will offer several music classes online, including Music Theory I and Exploring Music: Introduction to Music History. Students are also able to register now
for in-person music courses at the Riverside Campus in Medford, including beginning and intermediate group guitar.
Oregon residents age 65 and older are able to audit many college courses at little cost with a Lifelong Learner Tuition Waiver. Students using the waiver do not receive credit and do not pay tuition, but
are responsible for course fees, books and supplies. A list of eligible classes is available on the college website.
For questions about Rogue Chorus, email roguechorus@roguecc.edu. For other questions about music at Rogue, contact Music Coordinator Chiharu Sai at csai@roguecc.edu or 541-956-7054.