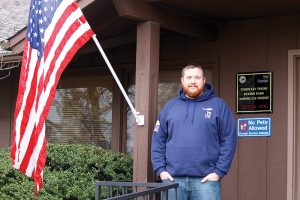 When Chris Cooper returned home from Marine combat deployment in Iraq, he had to figure out how to be a civilian again. Through the GI Bill he enrolled in Rogue Community College where he learned to juggle school, family, and work—a common challenge for many adult learners. Yet Chris faced the added struggle of adapting to life outside the military, the only life he had known for the past four years.
"I was in a readjustment period in my life," Chris says. And he quickly realized he was not alone. "When I first enrolled in RCC I had thought that I wanted to be an accountant. But as I started to take more classes and gain more social skills, I realized I wanted to work with other combat veterans like myself, and help the people that give so much to this nation and its people."
RCC offered Chris the flexibility to switch career paths from accounting to the human services field. Upon graduation, he got a job working for the Grants Pass Vet Center, which offers re-adjustment counseling for combat veterans and their families. Chris then brought his expertise back to RCC, where he teamed up with faculty members to establish the campus Veterans Resource Center (VRC).
"The Veterans Resource Center is a place for student veterans to get help in their transition from military life to school," says Nikki Johnson, veterans coordinator on the Redwood campus.
Her VA work-study staff not only assists students with GI Bill paperwork and other financial aid but also tends to their socialization needs. The VRC connects new students with student mentors and offers a variety of programs to help veterans adapt to campus, including free math tutoring and a new student orientation session called "Boots to Books."
Most importantly, the Veterans Resource Center serves as a hub for veterans to hang out, get resources for counseling or job information, and generally feel at home.
"When students come off the battle field, it's a really hard transition for them to go into civilian life," Nikki says. "The VRC is a safe place where students can connect with other veterans from all branches of the military and feel like they belong."
Across three RCC campuses, there are two Veterans Resource Centers (Redwood and Riverside campuses) serving nearly 800 veterans. In 2014-2015, that translated to $7.3 million of funding to local veterans through the GI Bill Educational Benefits.
For more information on how the Veterans Resource Center can help you, visit www.roguecc.edu/veterans.