The Wiseman Center, home to the Redwood Campus library, is named in honor of Lillian Alicia Wiseman, who lived from 1895 to 1983.
In 1973, the retired seamstress gave an anonymous gift of $10,000 to Rogue Community College. She'd never even stepped on campus. She just wanted to help future students.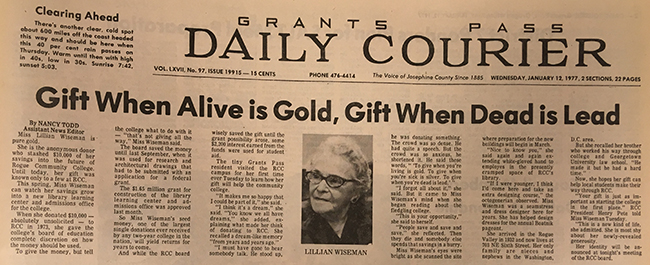 This Jan. 12, 1977 article from the Grants Pass Daily Courier tells her inspiring story:
Gift When Alive is Gold, Gift When Dead is Lead
By Nancy Todd
Assistant News Editor
Miss Lillian Wiseman is pure gold.
She is the anonymous donor who stashed $10,000 of her savings into the future of Rogue Community College. Until today, her gift was known only to a few at RCC.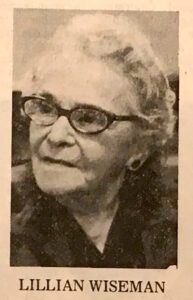 This spring, Miss Wiseman can watch her savings grow into a new library learning center and admissions office for the college.
When she donated $10,000 — absolutely unsolicited — to RCC in 1973, she gave the college's board of education complete discretion on how the money should be used.
To give the money, but tell the college what to do with it — "that's not giving all the way," Miss Wiseman said.
The board saved the money until last September, when it was used for research and architectural drawings that had to be submitted with an application for a federal grant.
The $1.65 million grant for the construction of the library learning center and admissions office was approved last month.
So Miss Wiseman's seed money, one of the largest single donations ever received by any two-year college in the nation, will yield returns for years to come.
And while the RCC board wisely saved the gift until the grant possibility arose, some $2,200 interest earned from the funds were used for student aid.
The tiny Grants Pass resident visited the RCC campus for her first time ever Tuesday to learn how her gift will help the community college.
"It makes me so happy that I could be part of it," she said.
"I think it's a dream," she said. "You know we all have dreams," she added, explaining what made her think of donating to RCC. She recalled a dream-like memory "from years and years ago."
"I must have gone to hear somebody talk. He stood up, he was donating something. The crowd was so dense. He had quite a speech. But the crowd was so anxious, he shortened it. He said these words, 'To give when you're living is gold. To give when you're sick is silver. To give when you're dead is lead.'"
"I forgot all about it," she said. But it came to Miss Wiseman's mind when she began reading about the fledgling college.
"This is your opportunity," she said to herself.
"People save and save and save," she reflected. Then they die and somebody else spends that savings in a hurry.
Miss Wiseman's eyes were bright as she scanned the site where preparation for the new buildings will begin in March.
"Nice to know you," she said again and again extending white-gloved hand to employees in the presently cramped space of RCC's library.
"If I were younger, I think I'd come here and take an extra designing course," the octogenarian observed. Miss Wiseman was a seamstress and dress designer here for years. She has helped design dresses for the annual Boatnik pageant.
She arrived in the Rogue Valley in 1932 and now lives at 703 NE Sixth Street. Her only family are nieces and nephews in the Washington, D.C. area.
But she recalled her brother who worked his way through college and Georgetown University law school. "He made it but he had a hard time."
Now, she hopes her gift can help local students make their way through RCC.
"Your gift is just as important as starting the college in the first place," RCC President Henry Pete told Miss Wiseman Tuesday.
"This is a new kind of life," she admitted. She is most shy about her newly-revealed generosity.
Her identity will be announced at tonight's meeting of the RCC board.
---
To make a donation to the RCC Foundation, please visit foundation.roguecc.edu.