For 14 years, Whitney Barnard has worked in design. Now, she's at Rogue Community College in order to get into a more highly-paid position. She knows she needs a design and digital media degree to get promoted, but also has leadership aspirations. That's why she's pursuing two degrees at once at Rogue: one for design and digital media and one for business and marketing to be sure she has the skills she'll need to lead her own business.
Pursuing two degree pathways is no easy feat to begin with, but Whitney has faced more than her share of challenges. Her house burned down in the Almeda fire, and she took a few terms off. Luckily, her advisor was there to support her when she came back. "Heidi Harless [my advisor] and other instructors have been really wonderful. Heidi helped me make sure I had all the classes I needed and everything was really smooth at RCC while I was trying to get my life back on track."
Now Whitney works as a TA with Harless, helping design students work on their capstone projects — murals around the RCC campus. Back in 2020, Whitney designed her own mural on the walls of the college's new Health Professions Center. This year, she was awarded Outstanding Student in Visual Arts and Design at RCC Honors Night.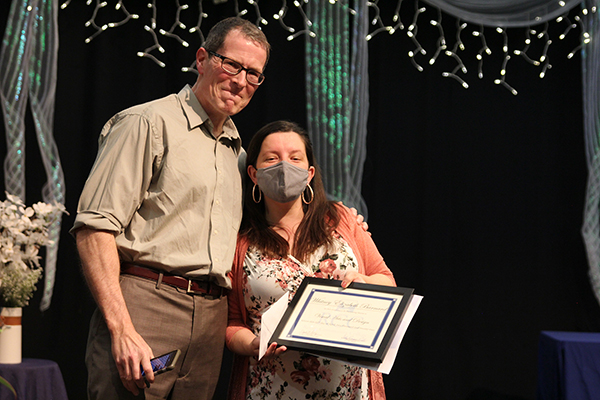 Whitney graduated from Ashland High School in 2009. She had taken some courses that were eligible for credit at RCC so when she started college in 2016, she had almost two terms' worth of credits already completed.
Now, she's ready to be a mom — expecting twins, one for each degree! She's hoping to finish at least one of her degrees before her twins are born, and then she'll take some time off before finishing the second degree.
"RCC has been really flexible on my degree completion," Whitney said. "Going here is a better experience than I could have imagined."
— Gene DePuy