Anyone who owns a vehicle needs a good mechanic, and RCC's auto tech graduates are in high demand, according to Pete Ridgeway, co-chair of the RCC Automotive Technology department.
"There's more demand than I have graduates to fill," Ridgeway said. "The need for entry-level technicians in the auto industry is enormous."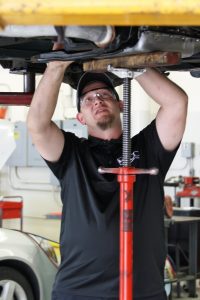 People may not realize college is a path to becoming an auto technician, but the job has changed significantly over the years, said department co-chair Paul Boothroyd. "It's not just wrenching on cars, which used to be the old term," Boothroyd said. "Now it's high-tech training."
Rogue Community College's Automotive Technology department offers a two-year Associate of Applied Science (AAS) degree as well as a one-year Automotive Specialist certificate. The programs help students attain the math, computer and diagnostic skills needed for automotive occupations including parts professional, fleet mechanic and automotive technician.
Securing a job as an auto tech was John Toth's goal when he studied at Rogue. Toth grew up working on cars with his father and grandfather, but he credits RCC with paving the path to his career as an automotive technician with Roe Motors.
"Attending RCC gave me the opportunity to do a [Cooperative Work Experience] here at Roe Motors, and with the skills I learned at RCC, I was able to get a job here," Toth said. "I wouldn't have been able to get [the job] if it hadn't been for RCC."
Cooperative Work Experience (CWE) internships allow students to get real-world experience as an integral part of their degree or certificate program at Rogue. The RCC automotive program has CWE partnerships with many local automotive companies, including the Butler Automotive Group, Jim Sigel Automotive and Roe Motors, where students are able to put their classroom knowledge into practice.
Roe's service manager Dave Fisher said the CWE partnership provides a great benefit to his shop as well as serving as a hands-on lab for students. "We can bring [technicians] in as CWE students through the Cooperative Work Experience, and have a nice long period to be able to interview these kids and make sure that they're going to be a good fit for us," Fisher said.
Roe currently employs three techs who graduated from RCC. "They've all been excellent employees and I absolutely will hire more people from that program," Fisher said.