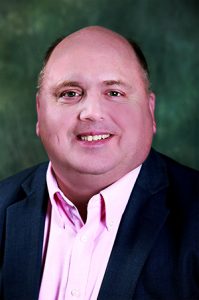 Rogue Community College is pleased to announce the addition of Gold Hill resident Shawn Hogan to the RCC Board of Education. Hogan, who fills the Zone 3 Jackson County position, was elected to a four-year term during the May 16 special election. His term expires June 30, 2021.
Hogan is vice president of engineering for Linx Technologies, a local manufacturer of advanced electronic devices that is committed to developing the local workforce.
Hogan serves on the Rogue Workforce Partnership Board and participated on the Rogue Advanced Manufacturing Partnership Committee as well as the RCC Electronics Advisory Committee. He also participated in the last RCC President Search Advisory Committee in 2016.
"Shawn brings to the Board of Education another set of experienced eyes," said Tim Johnson, board chair. "He is able to blend a quest for the best possible education with the need for fiscal responsibility. His years of experience in the business world will be a great asset on the board."
Hogan has served as vice president of engineering for Linx since July 2013. He has led the Merlin company's new product development activities and recently added the responsibility for oversight of the operations and supply chain. Hogan joined Linx in February 2008 as a quality manager, where he was responsible for documenting and launching the Linx Quality and Management System. He took on the role of director of engineering for the Merlin design team following the acquisition by Alpine Investors in March 2011.
Prior to joining Linx, Hogan held engineering management and technical contributor roles in the Hach particle counter division (now Beckman Coulter) within Danaher, a Fortune 300 diversified industrial manufacturer. At Hach, Hogan was responsible for the execution of new product development, and the implementation and ongoing support
of development process tools. Hogan was one of the key contributors in the creation and corporate-wide rollout of accelerated product development tools within Danaher, and was an early adopter in the use of global product development (GPD) resources to augment internal development teams, including presentations at the Danaher Internal Conference on Innovation (DCI) on the TG2 and GPD topics.
Hogan holds both a bachelor's degree and a master's degree in physics from the University of Washington.
"I am honored to have the opportunity to serve on the Board of Education for Rogue Community College," Hogan said. "As a first-generation college graduate who started in community college, I understand the valuable roles our community college system serves in creating transformation changes for our students and our communities. My personal growth and success have been a direct result of CTE programs in both high school and community college. CTE classes in high school provided an entry path into the workplace. I look forward to working to help RCC continue its mission serving our students, communities, and businesses in the valley."