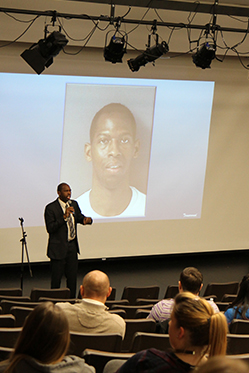 Victims advocate and inspirational speaker Timothy Jones visited Rogue Community College's three campuses with a message of hope in overcoming adversity as part of this week's Veterans Appreciation Week activities.
Jones, a U.S. Navy veteran, was sexually assaulted in 1999 while serving on active duty at Marine Corps Air Station Iwakuni, Japan. The experience of being stalked, raped and then outcast by his peers sent Jones on a 10-year downward spiral into drugs and alcohol, homelessness, suicide attempts and incarceration.
Now, in a suit and tie, the national keynote speaker stands in front of audiences with his police mug shot projected on the screen over his shoulder: "This photo is what hope looks like," he says.
Looking back, Jones says he had to make a choice – to become a statistic or to become his own champion. Through sharing his journey "From Victim to Victor," Jones hopes to inspire people who are struggling to become their own champions – but his message is also targeted at teachers, parents, pastors and others who have opportunity to intervene and help open doors for people who can't find their own way.
"It all started with people who believed in me when I couldn't believe in myself," says Jones, whose work as an advocate for homeless veterans and victims of sexual assault has taken him from coast to coast over the past few years, including opportunities to meet Vice President Joe Biden and former U.S. Secretary of Veterans Affairs Bob McDonald.
A pivotal experience was meeting with a Veterans Affairs counselor and receiving a diagnosis of Post-Traumatic Stress Disorder (PTSD). For a time, Jones admits, he wasn't proud to identify as a veteran and he recognize PTSD might be at the root of his problems: "I didn't lose any limbs," he says. "I never saw combat. I served for 27 months."
However, thanks to resources he received as a veteran, Jones found a path to rebuild his life: He enrolled at Pensacola State College (a community college in Pensacola, Florida) and got involved with Student Veterans of America, a group that sent him to a national leadership training academy where he shared his story with other student veterans who "wrapped their arms around me," Jones recalls. "I hadn't had that experience before."
"SVA was absolutely pivotal in my success," Jones says.
Rogue Community College founded an SVA chapter in January and is working on merging the existing veterans club with the new group, says Nikki Johnson, veteran coordinator for the Redwood Campus. SVA is a nationwide organization with opportunities for student scholarships and grants to help schools improve their veterans resources.
RCC has Veterans Resource Centers (VRC) with staff coordinators and student veteran workers on the Redwood and Riverside campuses. The VRC provides computer work stations, benefit assistance and opportunities for social networking. Additional resources for veterans are available through the TRiO Rogue Opportunity Center (TRiO ROC).
RCC received the 2017 Military Friendly Silver Award, a designation that indicates the college's dedication to "helping veterans make the transition from military to school and, ultimately, satisfying careers in the civilian world," according to militaryfriendly.com.
In academic year 2016-17, RCC served 819 student veterans, including 466 who used a GI Bill to attend courses. The college is currently developing "Green Zone" training program for faculty and staff to learn how to help veterans with the transition between military and school.
***
Speaker Timothy Jones was brought to RCC by the Diversity Programming Board, which organizes an annual series of programs designed to promote a community of inclusion and understanding by providing educational opportunities that introduce the campus community to a variety of perspectives. Native American hoop dancer and storyteller Kevin Locke visited Riverside Campus in October. Details are yet to be announced for upcoming events.