Tucked away in a forested area near the Josephine Building, a totem pole on the Rogue Community College Redwood Campus had been a bit of a mystery in recent years.
Nobody seemed to recall who created 24-foot-tall sculpture or how long it had been there. Many on campus didn't even know it was there.
A little digging by a student revealed it was the work of renowned chain saw artist Don Colp, who carved the pole in 1990 during a Boy Scout event on campus. Now a new sign at the totem pole recognizes the artist's work. Funding was provided by a mini-grant from the Josephine County Cultural Coalition. The grant application and research about the pole's origins were completed by Alexis Gonzalez Olivo, a student worker in the college's Institutional Research, Effectiveness, and Planning department.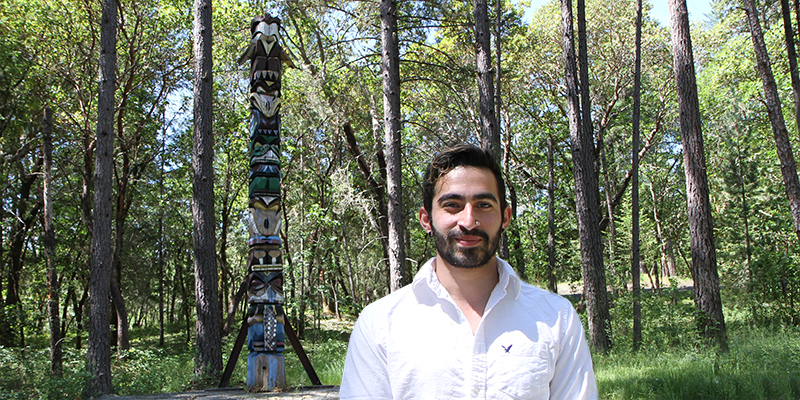 Alexis was surprised to learn the campus totem pole is not a Native American piece or associated with any tribe. Rather, the sculpture was created by pioneering chain saw artist Don Colp, sometimes called the "grandfather of chain saw carving."
A native of Canada, Colp ran a logging operation and lumber mill in Alberta before carving out a different kind of career in wood. Already a whittler, Colp was inspired to create sculptures with power tools after seeing a 1960s TV program about an early chain saw artist. Colp had a knack for the craft, earning sponsorships from chain saw companies who paid him to perform for audiences across the U.S. and Canada.
"Colp earned his living for nearly 40 years by using a roaring, snaggle-toothed power tool to transform blocks of wood into Western-themed sculptures that fetched as much as $36,000," The Register-Guard reported in 2006. At that time, the 74-year-old Colp was closing a shop he'd run for 14 years in Oakridge, about 40 miles east of Eugene. Another totem pole he created is at the Willamette Fish Hatchery near Oakridge. Today, Colp is retired and lives in Canada, according to son Mark, an accomplished carver himself.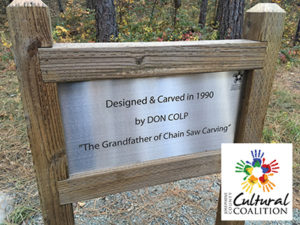 Totem poles are monuments created by some of the native peoples of the Pacific Northwest. Found in coastal communities of Alaska, British Columbia and Washington, the styles and significance of totem poles reflect the diversity of the native peoples who created them. Some represent ancestries or histories, while others commemorate a specific person or event.
Though Colp didn't create the Redwood Campus pole with any meaning, the sculpture features several animals commonly found in indigenous works — a beaver, bear, wolf, raven and thunderbird. Unfortunately, the outstretched wings of the thunderbird that tops the sculpture were broken off when the pole was felled by a flood within a few years of being installed. The college plans to have the wings replaced or restored.
Restoration of the totem pole and surrounding area is part of a larger project to improve the rural landscape on the Redwood Campus. "It is our goal to lengthen the Ruckman Trail, incorporating the totem pole and arboretum tour, and giving easier access to users," said Grant Lagorio, RCC Facilities director. "We hope to have interpretive signage and solar lighting along the way."
The Chuck Ruckman Memorial Trail is a 1.6-mile forested walking trail dedicated to a beloved forestry instructor who died in a plane crash in 1985.