Kaloa Neukan loves soccer. It's always been her passion — and she's good at it.
She played soccer in high school and was offered a scholarship by Rogue Community College to attend classes and play for the Ospreys. Just days before tuition was due, the coach left and Kaloa's scholarship fell through.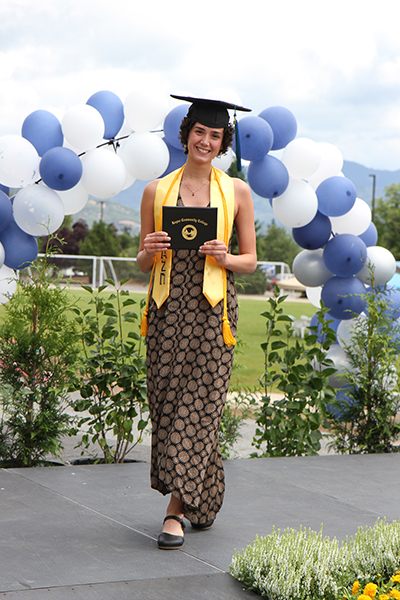 Kaloa was living with a host family at the time and they helped her find community support and sponsors to pay for her first term at Rogue — all 17 credits.
"It was so amazing," she recalls. "It really meant so much to me." And soon, another coach came and Kaloa's full-ride scholarship was back. She started to play soccer again, but the COVID-19 pandemic soon began to disrupt the season.
All this time, Kaloa was taking classes. She always did more than the minimum, taking up to 21 credits at a time — nearly twice the number required to be considered a full-time student. Mostly she focused on physical education classes and enjoyed the ability to set her own pace working online.
Kaloa was also president of the Osprey Society club, participated in the Earth Club, and was inducted into the Alpha Zeta Pi honor society. She also won the RVC/TRC Leader of the Year Award presented by the RCC Associated Student Government (ASG).
"I got to meet people through clubs, even though most of it was online. Toward the end of my time at RCC we started to do some in-person things, and that was awesome." She recalls particularly participating in Earth Day activities on campus and getting the chance to learn about Southern Oregon's ecology with the Earth Club.
Because the pandemic so disrupted soccer seasons, Kaloa didn't have the stats to show a university. So when she finished college, she took some time to reflect.
"It was very sad for me. It was really my whole vision to play soccer, to go to university and be on a soccer team. So I had to shift my whole identity and reflect on what to do next, to move past my sadness and do something new."
She obtained her right to work in the U.S. and became an assistant at an acupuncture practice. "I'm really learning a lot," she says, "I have lots of new possibilities and opportunities."
And now, she's bringing soccer back in.
"I really want to be an assistant coach at the local high school," Kaloa said. She's also playing in leagues around the city and has found that her passion has been revived. "I realized it doesn't matter if I'm playing, coaching — it's about the activity, the lifestyle, the community. Soccer reminds me of who I am."
— Gene DePuy