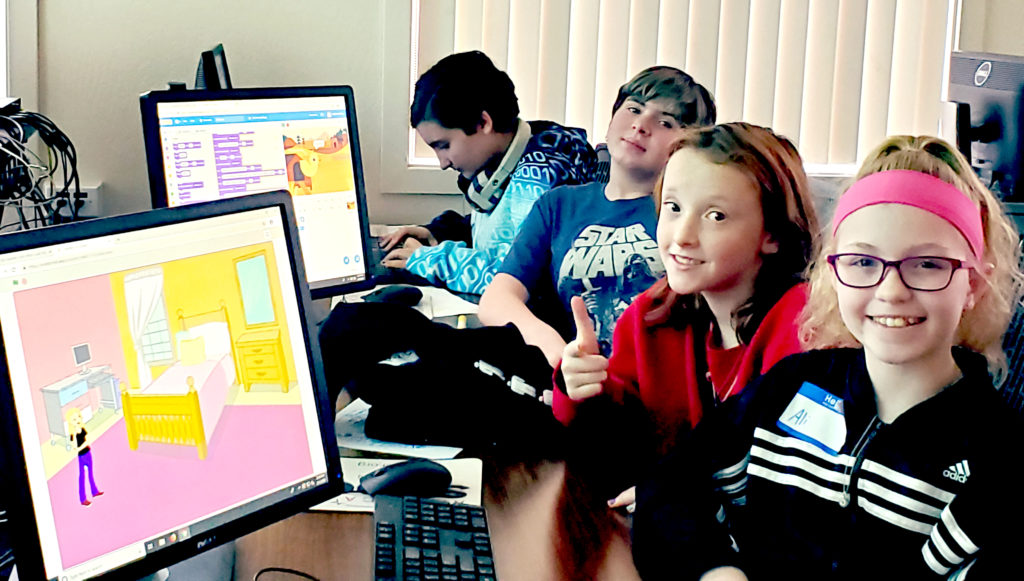 A new club aims to help middle school girls crack into a great career — computer coding.
A group of 19 girls attended a Girls Who Code Club event at the Rogue Innovation Hub in downtown Grants Pass on Saturday, Feb. 1. The goal of the club — part of an international movement — is to close the gender gap in technology and to change the image of what a computer programmer looks like and does. The girls learned about women pioneers in the field of computer science as well as current businesswomen and engineers who use computers on the job.
The club is a follow-up to a three-week day camp the girls participated in last summer at the RCC Redwood Campus. The Verizon Innovative Learning STEM Camp, an initiative of the Verizon Foundation, is a tuition-free program that aims to introduce middle school girls, especially those in rural areas, to science, technology, engineering and math (STEM) skills. The camp is offered in partnership with RCC and the Boys & Girls Club of the Rogue Valley.
The club motto is "Kids can't be what they can't see." Saturday's activities were led by Bethany Osborne-Koch and Joel Wilder, who also teach at the STEM summer camp. The girls selected a computer programming language to study and will be designing their own project to code in this language over the next month.
"The girls are very excited to put their coding skills to use with hand-on projects," said camp coordinator Lee Bollschweiler.
Computing jobs are among the fastest growing in the nation, often paying more than double the average U.S. salary. In the coming years, computing jobs are expected to be a key driver of national economic growth and mobility.
More Girls Who Code Club opportunities will be held at the Rogue Innovation Hub in 2020, as well as opportunities for boys to learn programming skills. Information about the 2020 Verizon summer camp will be sent home from school with middle school girls in March.
For more information about the Girls Who Code program, visit girlswhocode.com.