There's a new face on campus, and she's poised to make an impact. Paula Calcaterra joined Rogue Community College in August as Director of Nursing. She and her husband moved from Idaho to take on the challenge of managing RCC's growing nursing degree programs. Paula's wealth of experience in nursing education and hands-on patient care is sure to equip our nursing students for success in the workplace, especially as the need for health care workers rises this decade and beyond.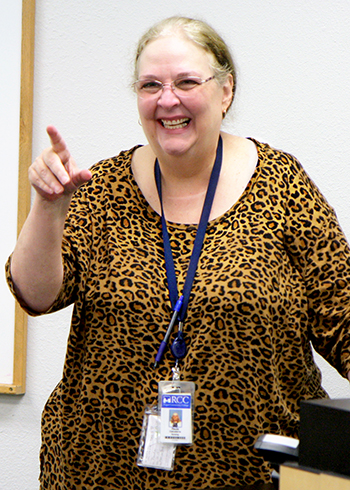 A practicing RN since 1977, Paula has seen many advancements in the nursing field over the past 40 years and has stayed abreast of them all, earning her own advanced degrees even as she taught new nursing students the ropes. "Paula came up through the ranks and returned to school many times, so she feels she can appreciate the effort and sacrifice it takes to return to higher education," said Teri Smith, RCC Dean of Health and Public Service.
Paula's career boasts 37 years of experience teaching all levels and subjects in nursing and allied health in multiple states across the U.S., as well as in China, Mexico, Peru, Chile and elsewhere. She is a certified oncology nurse and an oncology clinical nurse specialist for children and adults. She has served as nursing manager of a cancer treatment center, hospice director, county deputy coroner, and nursing supervisor among other vital roles in hospital and clinic settings. In 1988 she earned a master's degree in nursing with a dual major in nursing education and advanced clinical practice specialty.
"My heart has always been in community colleges," Paula said. "We have a strong program here at RCC, and our mandate now is to get more RNs graduated!"
Asante alone will have 150 new positions coming open in the next few years, and Paula intends to fill them. "We need to grow for Asante and other providers such as Providence, and to serve the needs of the valley. And we can," she said.
Paula's approach will embrace modern tools such as virtual reality training in the new Health Professions Center. "The quality of our program is what makes a successful nurse," Paula said. "We will look at how we admit students and we will see how we can get more into the program without any loss of quality. The valley needs nurses—and we'll give them great ones."