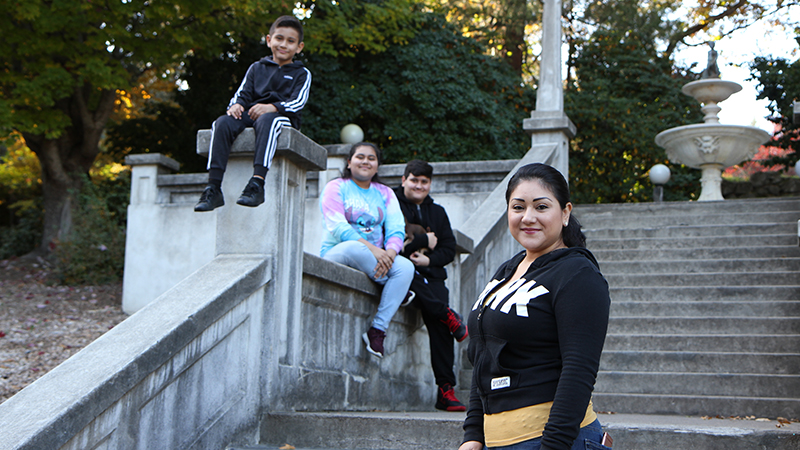 Juliette Antolin quit high school in ninth grade. She never thought she could get a diploma, much less graduate from college. But all that changed when she walked through the doors of Rogue Community College.
"It had been a lot of years since I'd been in school," Juliette said. "I was so afraid that I didn't have the knowledge, I felt I was so behind, and I had a lot of doubts about going back to school."
As a single mom working full-time to provide for her three children, Juliette had limited hours to invest in her education. She started slowly, enrolling in classes toward her GED. That's when the world of possibilities opened up to her.
"I was just going to get my GED, that was the plan," she said. "But then [my instructors] told me about the SOHOPE scholarship, and I learned I could continue my education and they would pay for everything. I definitely could not have done it without SOHOPE. I am so blessed."
SOHOPE, which stands for Southern Oregon Health Occupations Poverty Elimination, is a federally funded program that allows low-income students in Jackson and Josephine counties to train for careers in health care—all expenses paid. Students can enroll in a variety of programs at RCC including nursing and dental assistant, emergency medical technician, medical billing, phlebotomist, emergency room technician, physical therapy aide and sterile processing—all vocations that are currently in demand throughout our local communities.
Juliette will graduate this spring from the RCC medical administrative assistant program, qualifying her to work as a patient registrar or office staff at local hospitals or clinics. "From all the programs, I truly like this one," Juliette said. "Greeting people, being able to help people—especially since I am bilingual, I can help my community by translating. I can put my knowledge into helping people."
Juliette speaks fluent English and Spanish, and she is raising her children to do the same. "I'm always telling my kids, if you know at least two languages, you're going to have more opportunities in the working world," she said.
Looking back, Juliette is proud to have accomplished something she never thought was possible for her. "Once I started, I decided I was going to do my best, put in 100%. I kept going to my classes, I stuck to it and got my GED. My oldest sister was so inspired by what I accomplished that she went back for her GED, too."
Juliette credits the staff and instructors at RCC for helping her reach her goals. "Once I got into the medical assistant program, thanks to the SOHOPE scholarship, I felt people were there for me, supporting me. I really loved it because I was able to study something that I really wanted to do. It was a perfect fit."
Juliette knows many other people in our community are at a similar starting point, wondering if they have what it takes to go back to school and improve their future. She wants to tell them, "Just go and do it. Even if you're not that fluent in English, start with your basic English classes. Go on to your GED and then college classes. I know it's scary and there's a lot of doubts, but once you start, you're going to want to continue and finish what you started and know that you're going to be able to accomplish your dreams. If I can do it, you can do it."