RCC students changing the world – one bee at a time
RCC faculty work for the success of their students, often encouraging them to participate in competitions. Here is just one example of an engineering instructor who saw an opportunity for his students.
Did you know? The global ecosystem is at risk due to a decline in the worldwide bee population. Because bees are responsible for pollinating two-thirds of the crops that feed 90 percent of the world, fewer bees means a threat to our worldwide food supply.
But not if Uriah Barrows has anything to say about it.
"When facing a serious issue such as pollinator decline, data is the single most useful tool we have to solve the problem," said the former RCC student body president, now studying physics and engineering at UC Berkeley. "It is time to look to technology to fill our gaps in knowledge and potentially find species that were thought to be extinct."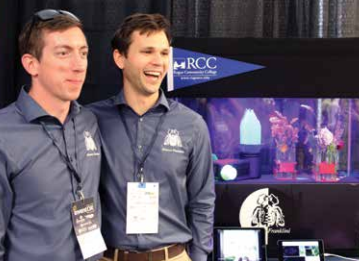 Uriah, Nicholas Mantheakis and another RCC classmate formed Mission Franklini and invented a device for tracking bee populations using nonintrusive data— meaning, no bees were harmed in the process—with the intent of studying and enabling the pollinators' survival. This invention won top honors in the community college category at the 2018 InventOR Collegiate Challenge led by Portland State University.
InventOR is a statewide competition for college and university inventors and entrepreneurs, designed to encourage students to identify problems in their communities and develop solutions that can succeed as business opportunities. Undergraduate and graduate students from across the state competed for $30,000 in prizes. Teams were scored on the quality of their idea, prototype and presentation. InventOR began in 2017 with five colleges competing, and last year the program expanded to 11 schools, including community colleges.
"There are many opportunities for engineers to create their own start-ups these days. Companies like Kickstarter make this so much easier to do than it used to be. But if you are going to do a start-up, you need to have some entrepreneurial skills as well," said James "Dusty" Rittenbach, physics instructor at Rogue Community College. Dusty encouraged his students to participate in the competition and helped guide them through the process.
"InventOR does a fantastic job by integrating the invention and the business sides of what it takes to make a start-up successful," Dusty said. "With these sorts of small businesses, it is possible for them to stay in the valley and bring in jobs with good wages."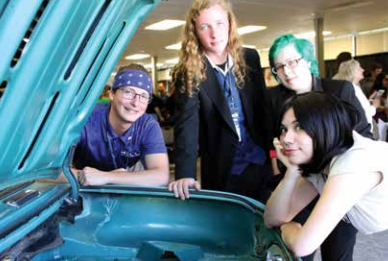 In addition to Uriah's bee-tracking team, another group of RCC students competed with an invention that converts cars to run on hydrogen.
"This is significant because it's a low-cost way to get green energy into people's cars," said student inventor Blake Turner. "Anybody with a gas-powered car can buy our low-cost kit and convert their car to burn hydrogen."
Carol Dahl, executive director at the Lemelson Foundation, a lead sponsor of InventOR, believes these student innovations can make a huge impact on our state and local economy. "Invention-based businesses can be substantial contributors to Oregon's economic growth," she said. "Collegiate Challenge helps create a pathway for students across the state to see themselves as inventor entrepreneurs and change agents in their communities."
Are you a budding inventor? Do you know one? Learn how Rogue Community College can build the skills you need to pursue your passions. For more information, visit roguecc.edu.