GRANTS PASS — Rogue Community College is offering a six-week Nursing Assistant 1 (NA1) training program in Grants Pass this fall. This non-credit program, new to the RCC Redwood Campus, offers a quick pathway to a career in the health care field.  
In response to regional demand for trained health care workers, the RCC Continuing Education department launched a nursing assistant training program in 2021 with classes at the Table Rock Campus in White City. This fall marks the first time the program is offered at the Redwood Campus in Grants Pass.  
The fall cohort will meet from Oct. 31 to Nov. 24 and a winter cohort is scheduled from Jan. 10 to March 2; a spring session will be offered in White City from April 18 to May 31.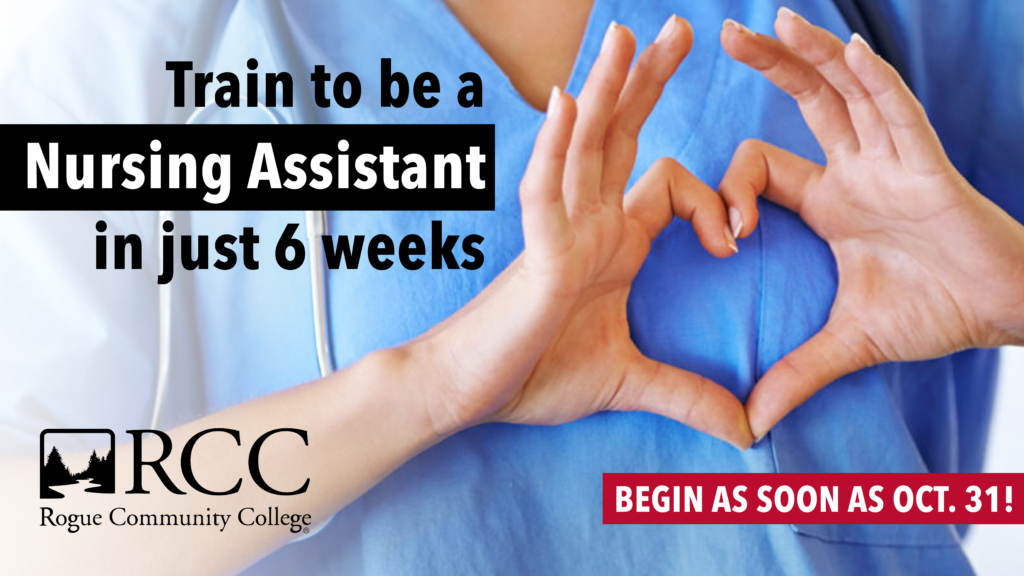 This state-approved NA1 program consists of 155 hours of online and in-person training. In just six weeks, students who successfully complete the program are eligible to take the certification exam through the Oregon State Board of Nursing to become a certified nursing assistant (CNA1). More than 90% of RCC's NA graduates have passed the state board exam, and most have received a job offer prior to graduation.
Financial assistance for the program is available through WorkSource Rogue Valley.
During the first three weeks, students complete 53 hours of self-paced online learning and 27 hours of on-campus skills labs. During the final three weeks, students take part in 75 hours of hands-on, supervised clinical training at a local health care facility.
This program is offered through RCC's Continuing Education department and does not earn college credit.
For complete program information, visit www.roguecc.edu/nursing-assistant or contact Diane Hoover, Director of Workforce Training & Continuing Education at dhoover@roguecc.edu or 541-956-7011.