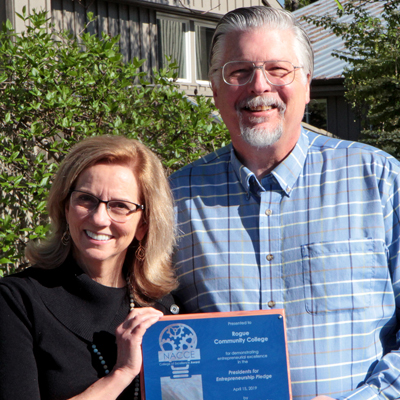 GRANTS PASS — Thanks to the accomplishments of the RCC Small Business Development Center, Rogue Community College is one of five community colleges across the nation this spring to be recognized as a College of Excellence by the National Association for Community College Entrepreneurship (NACCE). The award was presented at the American Association of Community Colleges annual conference April 15 in Orlando.
The NACCE recognized one college for exhibiting excellence in each of five categories that mirror action steps college presidents are asked to commit to when they sign the organization's entrepreneurship pledge:
Form teams to focus on entrepreneurship
Connect with entrepreneurs in the community
Collaborate with regional industry
Focus on business and job creation
Share stories through events and the media
RCC was noted for its "focus on business and job creation" due to the work of the RCC Small Business Development Center.
"I am very proud of the accomplishments of the RCC Small Business Development Center," said RCC President Cathy Kemper-Pelle. "The SBDC's positive impact on new business formation and existing small business growth is bringing prosperity to Josephine County."
Located in downtown Grants Pass, the RCC SBDC is consistently ranked as one of the top small business development centers in Oregon, frequently outperforming SBDCs that serve more populated counties. Based on 2018 performance figures, the RCC center ranked No. 2 out of Oregon's 19 SBDCs in three categories:
Capital formation: Assisted businesses in acquiring $4,726,750 in new loans, capital or equity investments
Business starts: Helped launch 34 new businesses.
Jobs created: Assisted clients in creating 95 new jobs.
The RCC SBDC provided 1,871 advising hours to 430 individual business owners, managers and entrepreneurs. The center also conducted 81 business development classes for 658 attendees.
"We are honored to be part of this award, and recognize it was not possible without our strategic partners," said Ron Goss, director of the RCC SBDC. "Thank you for the dedicated financial support we receive from Rogue Community College, the State of Oregon and the Small Business Administration along with annual funding from Josephine County and the City of Grants Pass. The support of each of these entities is critical to the services and programs that we provide to regional businesses."
The National Association for Community College Entrepreneurship is the nation's leading organization focused on promoting entrepreneurship through community colleges. To learn more about the association, visit NACCE.com.
For the NACCE's press release on the College of Excellence winners, visit https://www.nacce.com/news/national-association-for-community-colleges-names-colleges-of-excellence.