Students without a clear sense of what they want out of college often end up either quitting without a degree or spending too much time and money trying to find their way, often racking up loads of student loan debt.
Not at RCC. Our mission is to help students achieve their goals. Our Guided Pathways approach helps students find their path and graduate with the least amount of time and expense. Colleges that use Guided Pathways have higher graduation rates and lower levels of student debt.
RCC's academic advisors are available to help students like Camille Ireland identify their goals and choose the pathway that best meets their needs. RCC offers six pathways, or groups of majors with similar interests: Applied Technology; Art, Humanities, Communications; Business; Health Professions, Public Safety; Science, Technology, Engineering & Math; and Social & Behavioral Science, Education. Each pathway provides a roadmap to help students explore programs and careers, create an academic plan and stay on course to graduation.
Like many students, Camille wasn't sure what she wanted to do when she began taking classes at Rogue. She worked for years in retail, restaurants and fast food, often working up to management positions, but she didn't know how to get ahead. She'd always wanted to go to college, but she didn't believe it was in the cards.
"I did not think I was smart enough to go to college," she explains. "And then being a drug addict…" Her voice trails off, thinking about how far she's come.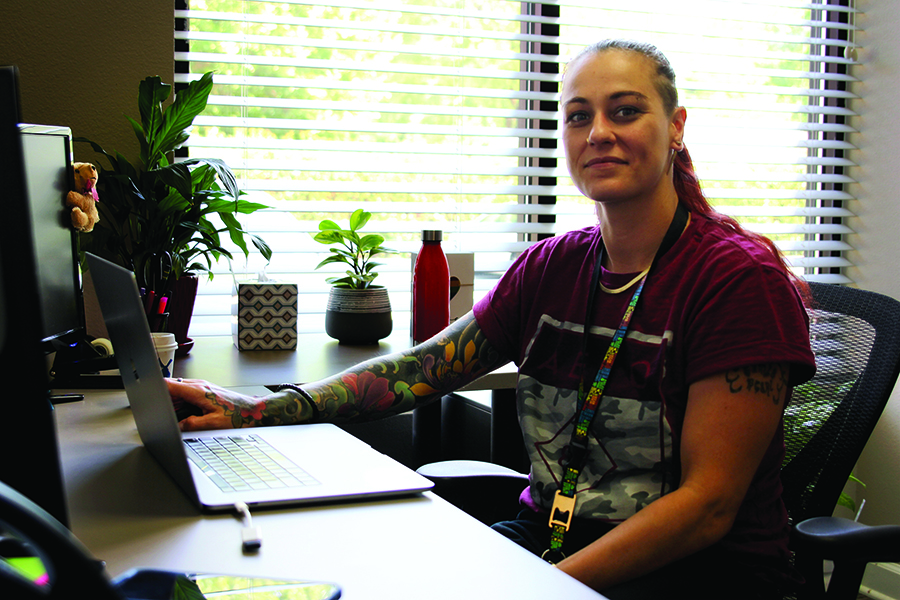 Four years and three months clean and sober, the 39-year-old has turned her life around. She's an honors student at Southern Oregon University with a passion for fitness and a paid position as a peer recovery counselor with Adapt in Grants Pass.
Although she's passionate about recovery, counseling isn't in Camille's long-term plans. She's optimistic and enthusiastic about a future working in emerging media digital arts, a career path she discovered at Rogue.
"I didn't know that was a degree," Camille says. She learned about digital arts after meeting her fiancée Amanda Esquivel, who was studying graphic design at RCC.
"It's creative, it looked fun," Camille recalls. "She was using colors, drawing things and learning about art history."
Camille took a Photoshop class and she was hooked. "I didn't want to go to school for something I wasn't interested in," she says.
Camille began pursuing a design and digital media transfer degree, one of the majors in RCC's Art, Humanities and Communications Pathway. Students on this pathway take a series of prerequisites or core classes that help them prepare for a variety of career certificates or two-year degree programs in the arts and humanities fields.
An honors student during her two years at RCC, Camille transferred last fall to SOU to pursue a bachelor's degree in emerging media and digital arts. She's on track to graduate next spring.
Camille says her RCC academic advisor Juliet Long helped her stay on track and helped give her confidence that she could succeed at college. She also benefited from the guidance of advisor Pam Green in the college's TRIO Student Support Services program, which helps first-generation college students prepare for transfer to a four-year college or university. A student job in the marketing department allowed her to take her graphic design skills beyond the classroom.
With a year under her belt at SOU, Camille has found a passion for video and sound editing. She's interested in working in film or television.
She's developing a plan to create a recovery resource magazine with her partner, Amanda. "I want to use my skills to make an impact," she says.
That sounds like someone who has found her path. Find your path. Call 541-956-7217 or email recruitment@roguecc.edu.