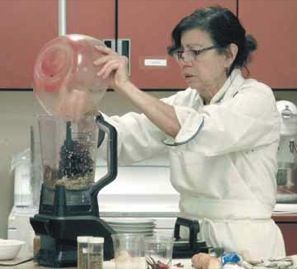 Photo and article by: KATHLEEN ALAKS/Daily Courier
A rich, pungent, aroma wafts through the classroom kitchen at Hidden Valley High School as chef Emily Moore stirs chopped garlic and shallots in a hot wok.
"The technique is called dry frying, which is frying without oil," Moore explains. "It's usually used for spices, but in this case the shallots and garlic are dry fried so they get brown and get a kind of chary, smokey flavor."
Moore adds the garlic and shallots to a blender, already holding dry-roasted coriander and cumin.
Next she adds chopped chiles that have been soaking in water, dry-roasted shrimp paste, chopped lemongrass, ginger, galangal — a cousin of ginger — and lime peel.
She blends it all together — adding a little water to thin it out a bit — and ends up with a fragrant batch of Thai red curry paste.
"With the coriander and cumin, lime, ginger and garlic, this has so many of the Thai flavors," she says, "and it has so many different uses."
Moore is leading a class on the basics of Thai cooking. It's the first in a series of four culinary classes that she and her husband Mark Solomon — both new to the Applegate Valley nine months ago — are now offering through Rogue Community College Community Education. The other three classes are French cooking, soft cheeses and appetizers.
Though all four spring classes are already filled, four more will be offered during the summer term. (See box.)
Trained at a prestigious culinary academy in Paris, Moore has served as executive chef at fine dining restaurants and hotels in Seattle, Portland, La Jolla, Calif. and Sun Valley, Idaho.
She has taught cuisine at the college level, most recently for four years at Le Cordon Bleu College of Culinary Arts in Seattle.
Thai cooking, Moore says in introduction, is pungent, spicy and deeply flavored."There are five elements of flavor: sour, sweet, salty, hot and bitter," she says. "In Thai cooking, all these different elements are incorporated into almost every dish."
Thai cuisine also uses many preserved seafood ingredients, including shrimp paste, dried shrimp, oyster sauce and fermented fish sauce.
"These fermented sauces help preserve food so they don't spoil in the hot, humid Thai climate," she says. "They smell pretty awful in themselves, but when they are combined with the galaxy of flavors that are Thai cuisine… they're just wonderful."
After she demonstrates making the red curry paste, Moore sets the students loose in the school's kitchens — four students in each of the three stations — for some hands-on time using authentic recipes that Moore has adjusted for American tastes.
The folks at Station One are making coconut ice cream, with kernels of fresh sweet corn and garnished with mango, along with a spicy chicken soup flavored with coconut milk, lemongrass, shiitake mushrooms, Thai chiles and cilantro.
They are using coconut cream rather than coconut milk, Moore explains, because the cream is richer, thicker.
"But you have to be delicate with it. Overheat it and it will separate," she says.
The students at Station Two are making a green papaya salad and crispy fish with red curry sauce.
"This refreshing salad is one of my favorites," Moore says. "It's originally from the northeast of Thailand…but has now become common as street food all over the country."
The crispy fish recipe can use cod, rockfish or halibut. The key to getting the fish crispy is dredging it in cornstarch before deep frying in a hot oil.
Here the red curry paste Moore made earlier is blended with coconut milk, fish sauce, sugar and dried shrimp ground into a powder to make a creamy sauce served over the fish, then garnished with sliced cucumbers.
Station Three is making jasmine rice in a rice cooker, and kale with crispy pork.
"The Thai like the stems of the kale but not the leaves, but we will use the leaves as well," Moore says. "And we're using bacon instead of the traditional pork belly."
Although it is somewhat difficult to purchase authentic Thai ingredients in Southern Oregon, Moore says she found everything she needed at an Asian grocery market on Barnett Road in Medford, next to WinCo.
———
Reach reporter Kathleen Alaks at 541-474-3815 or kalaks@thedailycourier.com.
———
Time to get cookin'
Rogue Community College Community Education Summer Cooking Classes
SCHEDULE:
French Cooking Demystified, Aug. 2
Soft Cheese Spectacular, Aug. 9
French Cooking Demystified, Aug. 23
Soft Cheese Spectacular, Aug. 30
TIME: 6-9 p.m.
WHERE: Hidden Valley High School, 651 Murphy Creek Road
COST: $65 per session
REGISTRATION: Register online at roguecc.edu/communityed starting May 27 or by calling 541-956-7303 starting May 30.