Rogue Community College celebrated the achievement of 710 students at the 47th Commencement, held June 16, 2018, at The Expo in Central Point. More than 1,700 graduates and guests were in attendance as the board of education conferred a total of 516 degrees and 340 certificates.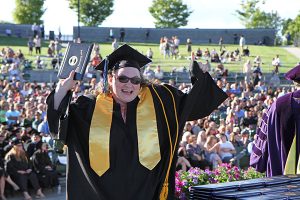 Of those graduating students, 260 earned GPAs between 3.00 and 3.49; 286 between 3.50 and 3.99, and 18 earned a 4.00 GPA. The youngest graduate was 16, the oldest was 69, and the average age was 31.
Welcoming remarks were made by Associated Student Government presidents Uriah Barrows and Airrik Gardner, faculty representative Deborah Murphy, and Claudia Sullivan of the RCC Board of Education.
Gardner said his education has shown him that "successful and unsuccessful people do not vary greatly in their abilities, but they vary in their desire to reach their potential. When confronted with ignorance, advocate knowledge; when stricken with fear, show courage; when presented with hate, give love. Be yourself, no matter the situation, and live the truth that you hold inside."
Barrows encouraged the graduates to "choose to remember this moment and always look back to it to help you get through the challenges that are upcoming. Challenge is what makes people great, and great people come from humble beginnings. So humbly accept this graduation ceremony and this diploma, and then move on to the next greatest thing in life, and don't ever stop choosing to be great."
Instructor Deborah Murphy encouraged all to cherish and treasure the day and what they had accomplished. "This piece of paper is like the golden ticket," she said. "It is a piece of the American dream, that you have accomplished something. So take that ticket and continue on that path, because when you find your path you really have a wonderful life." She then quoted Irish poet William Butler Yeats, "Education is not the filling of the pail, but the lighting of the fire," adding, "So you take that fire and you light up the world. Congratulations."
Speaking for students were Jocksana Corona and Curtis Ziegler. Corona, 33, earned an Associate of Science degree in human services. Ziegler, 43, earned an Associate of Arts Oregon Transfer degree. Both are pursuing bachelor's degrees at Southern Oregon University.
Corona recounted her story as a "Dreamer." Her mother brought her to America when she was 4 years old. Now 33, Corona said the United States is her home. However, her undocumented status created many hardships to attending college. Through determination, family support and the help of others, she succeeded. "RCC offered me and other students with less privilege an avenue to succeed," she said. "As human beings, what helps us survive is empathy and understanding of similarities while embracing our differences. We must have the courage to be the ones who step forward to build a bridge in a culture divided. I know many of my fellow graduates have had struggles. So, to the Class of 2018, I challenge you to love more, hope more, believe in yourselves, and most importantly, never give up."
Just three years ago, Ziegler said, he was homeless and living on the streets, suffering from addiction, when he decided to change his life. "What I love about RCC is that it is a school that allows all people, regardless of walk of life, to find a fresh start," he said. Ziegler called on his fellow graduates to share their stories with others. "Hope is available to every single one of us. Share your message of hope with others. You never know what another person is going through and that person may just need to hear your story."
President Cathy Kemper-Pelle presented the RCC Outstanding Citizen Award to AllCare Health (Doug Flow accepting), and Carestream Health Inc. (Mike Donnelly accepting). This annual award was initiated in 1987 to honor those who have provided distinguished service to the college and its community.
Kori Ebenhack, vice president of student services, served as master of ceremonies. The Pledge of Allegiance was led by Rose Passione, who also sang the national anthem a cappella. The commencement procession was led by students Krisha Seate and Kacey Sparacio and faculty members Tracy Redd and Midge Shaw.
Earlier in the day, a GED completion ceremony honored 103 students from Jackson and Josephine counties who completed the General Educational Development tests with the RCC Adult Basic Skills department.
The RCC Chapter of the American Association for Women in Community Colleges held a fundraiser at both ceremonies, selling single-rose bouquets and bottled water. Proceeds from AAWCC-RCC fundraisers provided two RCC students with $1,000 scholarships each administered through the RCC Foundation. The Foundation hosted a table inviting graduates to be on the alumni mailing list.